June 2012 The campaigning goes on despite the weather!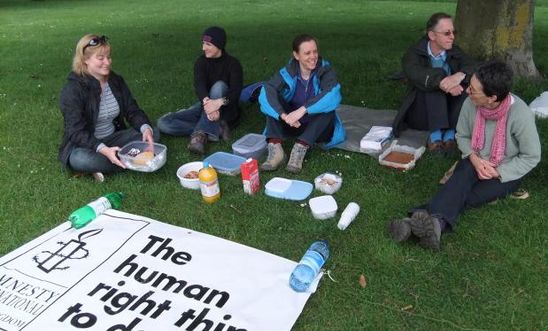 The sun did not shine for our picnic, but our spirits were not dampened!
June has been a busy month. Sunday 10th saw our inaugural Amnesty Group Walk and picnic at Coate Water in Swindon.
Passers-by who had braved the weather for a walk in the park were bemused to be offered free cake for no particular reason! The interested also took away Amnesty leaflets. We are already planning how to make the event even better next year.
We had two "summer" festivals in a row: Saturday 23rd was the annual Old Town Festival, and a week later on 30th we took our stall for the first time to the local festival at Toothill, where the wind nearly blew us away!
Our campaign focus was the release of remaining prisoners of conscience in Burma, including our new adopted prisoner, Khun Kawrio.
View latest posts