Guantanamo still open 10 years on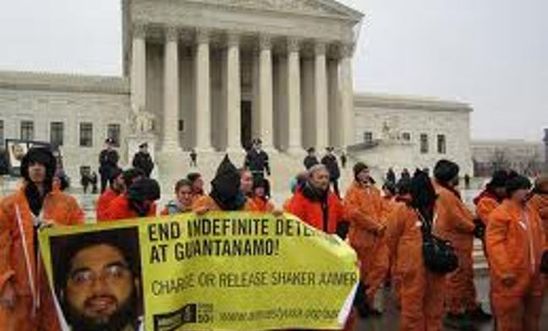 Protestors outside the Supreme Court call for an end to indefinite detention at Guantanamo bay
11 January 2012 marks ten years since the first detainee were transferred to the US detention facility in Guantánamo Bay, Cuba.
According to the US authorities, 779 detainees have been held in Guantánamo, the vast majority without charge or criminal trial.
One of the detainees still held in Guantanamo is former UK resident Shaker Aamer. Shaker was one of the first detainees transferred to Guantanamo and on the 14 of February 2012 will have spent 10 years in the detention facility without a charge or trial.
Despite President Obama's January 2009 order to close the detention facility at Guantánamo within one year, the prison remains open with 171 men still being held there.
See Group Campaign Bulletin (Dec 2011) for the actions we are involved in.
Downloads
View latest posts