August 2012 Swindon Pride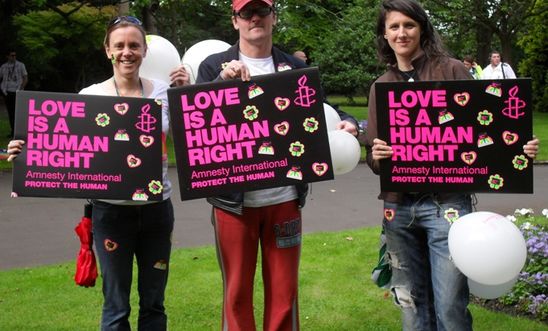 It did not rain on our parade, but spot the strategic umbrell, just in case!
This was the third year that we had a stall at Swindon Pride, but the first time that we took part in the parade, suitably festooned with Amnesty placards, balloons and stickers.
The event was a great success, as ever, despite the rain which set in later in the day and threatened to wash us away!
We had a huge response to our two actions:
Justice for Noxolo Nogwaza - postcard action
In the early hours of 24 April 2011, Easter Sunday, 24 year old lesbian woman Noxolo Nogwaza was murdered on her way home from a night out with friends. Her attacker(s) raped, repeatedly beat and stabbed her before dumping her body in a drainage ditch. According to organisations spoken to by Amnesty International, Noxolo was targeted because of her sexual orientation. A year after her death, no progress has been made in the investigation into her murder and her killer(s) remain at large.
We collected signatures on postcards to the chief of police responsible for the investigation demanding justice for Noxolo.
Cameroonian men imprisoned for real or perceived sexual orientation-  solidarity picture action
AI has documented a large number of arrests of individuals in Cameroon under Section 347 bis of the penal code, which prohibits sexual relations with a person of the same sex. Since June 2011, Amnesty International has documented numerous arrests and three convictions under these laws.
We collected solidarity photos for six of these individuals.
View latest posts