Ulrike Schmidt - 7 March 2022 Meeting Highlights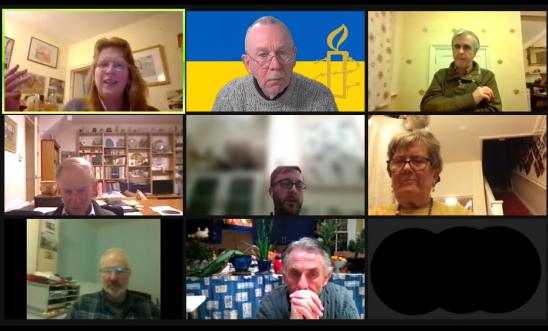 We were delighted to have Ulrike Schmidt - Amnesty Regional Coordinator for Europe (excluding the former Soviet Union) - to join us and talk on 'Shrinking Spaces for Human Rights in Central Europe'. Her talk focused on Poland touching also on Hungary and difficulties experienced by refugees and the Roma community.
Ulrike has been an active member of Amnesty since 1979, describing it and the fight for Human Rights as her life-time passion. She works as a teacher and craftswoman making furniture and musical instruments. She has been Amnesty UK country coordinator for Central and Eastern Europe for the last eight years and for the last three of those years been Regional Coordinator for Europe.
Ulrike briefly explained how Amnesty UK splits into 13 worldwide regions of which her role for Europe is split into four areas: her own Central & Eastern Europe area and three other team members managing respectively Northern and Western Europe, Turkey, and the Balkans (including Greece). The Regional Coordinators source information supplied by Amnesty International hubs situated in the respective countries and channels it for users in the UK. Sutton Amnesty subscribes to, and all members receive her team's monthly European briefing.
Poland
The ruling Law and Justice Party (PIS) which started as a centre right party has been moving further to the right. It has introduced concerning measures in a number of areas:
control of the judiciary: In 2016 the roles of the Ministry of Justice (MoJ) and the Public Prosecutor were combined, inconsistent with the independence of both and creating significant conflicts of interest.  The MoJ dismissed about a third of the heads of local courts and created a new Supreme Court. Judges speaking out against this were disciplined - for example when one challenged whether Polish law was now consistent with European law.
abortion: in 2020 abortion rules which were already very restrictive were tightened further with abortion in cases of severe foetal abnormality also prohibited.
LGBT rights - the government has encouraged hostility towards LGBT communities. Some towns declared themselves 'LGBT free zones' although this has led to loss of EU funding and cessation of twinning arrangements from other European towns.
The EU has been unable to sanction either Poland (or Hungary) as these two will always support each other in any vote.
Ulrike also mentioned her involvement in Amnesty's campaign in the case of Elizabeta Podlesna. Elizabeta had been charged in Poland with 'offending religious beliefs' for a 'Madonna and Child' picture with 'LGBT rainbow halos' - a charge which could have led to two years' imprisonment. In total about 600,000 letters had been written as part of the campaign. Elizabeta and others had been acquitted with a subsequent appeal by the Polish authorities also overruled. Ulrike saw this as indicative of both the power of Amnesty and the bravery of members of the judiciary.   
Refugee position
Both the EU and the UK have had a general policy of keeping out refugees.
Ulrike commented on the very positive and spontaneous support demonstrated in Poland towards Ukrainian refugees. She contrasted this with the treatment of refugees from countries such as Iraq and Syria who were given 'Visitors passes' to Belarus and then forced into Poland. Poland has not accepted them and they are currently stranded between the two countries with access to neither. Several have died in extremely cold conditions.  Help has been given by Polish women but at the risk of being criminalised. [Subsequent to our meeting, reports have suggested Belarus may be pushing some of these refugees into Ukraine]
Libya is being used, in particular by Italy, as a means of holding potential refugees. However there has been significant torture and use of slave labour in Libya with many people unaccounted for. Ulrike mentioned Amnesty's support for three teenagers 'the El Hiblu 3' who were among a group of refugees that had got into difficulties in the Mediterranean while trying to reach Europe. Rescued by a cargo ship (the El Hiblu) and told they were being returned to Europe, the group became extremely concerned when they realised they were heading towards Libya. The ship's captain asked about the cause of the anxiety (using the teenagers as translators) and chose to turn around to Malta. The El Hiblu 3 were then arrested in Malta and face charges of hijacking.  Ulrike mentioned a recent protest she had organised which passed the Maltese embassy in London and featured prominently in the Maltese Times.
Roma population  
Ulrike mentioned the adverse treatment of the Roma population across Europe - in particular in Hungary under Viktor Orban, who stoked hostility against 'The Other' and also in Chechia.
Discussion/other matters
There followed some discussion about pressure that might be put on the Polish Government (including through the church in view of the role of the conservative Catholic church). Ulrike emphasised there was a lot of resistance within Poland to discriminatory practices with significant differences between attitudes in the more liberal cities and more conservative rural areas.
Mark mentioned his work supporting Roma in the UK and recommended the film A People Uncounted. It was agreed that we should invite Ulrike back to talk about the Roma.
Sutton Amnesty have been active in the cases of Elizabeta Podlesna, the refugees at the Belarus/Polish border and the El Hiblu 3, as well as participating in Vigils at the Maltese and Polish embassies.
Mohamed al-Roken
Our Chair spoke about our 100 day campaign involving alternate letters and emails sent every fortnight by ten members of the group to the UAE embassy. If others want to join in please let our Secretary know by email. At the date of the meeting Dr al-Roken had been imprisoned for 3,520 days.
Urgent Actions
The group were circulated with 5 Urgent Actions as follows:
a petition directed at the Ministry of Defence in Russia asking for an end to the 'aggression' in Ukraine and protection for Ukranian civilians;
another, to Boris Johnson, urging that the UK delivers on the promise to support 200,000 Ukrainian refugees. More widely that it should drop those aspects of the Nationality and Borders Bill which would further undermine the UK's Asylum system mentioning in particular refugees from Afghanistan and Syria;
emails to the Iranian ambassador in London in relation to the possible imminent execution of Hossein Shahbazi for a crime commited while a minor following a confession extracted by torture. We asked for the execution to be halted, the conviction quashed and a retrial to take place. More generally we asked for the immediate end of execution in respect of offences committed whilst a minor (with a view to subsequent cessation of all executions) and the end of confessions being extracted under coercion;
emails to the Minister of Interior in Columbia following what appears to be systemic intimidation by the authorities of human rights defenders in the Magdalena Medio region of Columbia. We are asking the Minister to initiate dialogue with authorities in the region as a prelude to implementing a plan for the safety and protection of those affected; and
an email to the Turkish Ambassador in London and letter to the Minister of Interior following the country's withdrawal from the Istanbul Convention, the Council of Europe's treaty on preventing violence against women. In light of the country's poor record we made a number of requests including for better protection/prevention for women and prosecution of perpetrators.
View latest posts