Sutton Amnesty Letter-Writing Stalls in June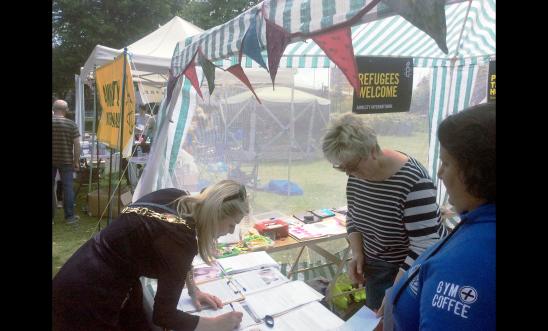 Mayor Trish Fivey signing letters at Sutton Amnesty stall in Manor Park
Sutton Amnesty have been busy running three letter-writing stalls during the month of June! These were:
Manor Park Jubilee Fete, Sutton (June 3rd)
Connecting Small Charities Fair, St Helier (June 22nd)
Cases featured were our prisoner of conscience, Dr Mohammed Al-Roken from the UAE, Alexei Navalny from Russia, Sophia Huang Xueqin & Wang Jianbing from China and the young Palestinian journalist Janna Jihad.
We made 2 very useful contacts with Trish Fivey (Mayor and Liberal Democrat councillor for Sutton South) and Louise Phelan (Liberal Democrat councillor for Sutton South and a member of the Sutton Council Licensing committee), both of whom were supportive of Amnesty. Trish also posed for photographs at the Manor Park stall.
Good contacts were also made with the teachers and students at Sutton High School for Girls, during their Human Rights Festival on the 14th, and as a result, we have an invitation to speak at the school this autumn.
All in all, the 3 stalls were a good test in resourcing all the materials we required, and for the newer volunteers to understand how an Amnesty letter-writing stall works. And to explain Amnesty's work to the public. We plan to run similar stalls at the Carshalton EcoFair (August 29th) and the local Liberal Democrats conference (September 3rd).
Thanks to Anne, Mark, Paul, Siddhi, Clive, John, Graham and Lyndon for volunteering to run these stalls - and especially Barbara, who attended all 3  - much appreciated!
View latest posts