Erkin Sidick - 7 February 2022 Meeting Highlights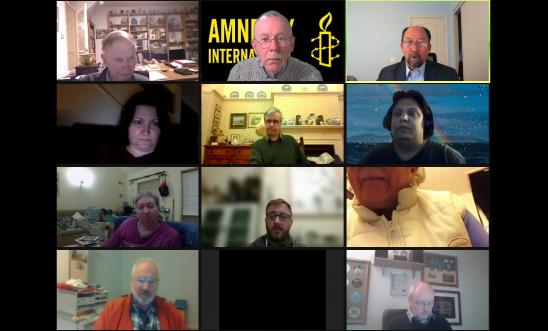 We had an excellent turnout for our 7 February meeting including guests from the Galway and Mayfair Amnesty Groups. We were also pleased to welcome Sultan Mahmoodi, recently relocated from Afghanistan and working with Human Rights groups based in Afghanistan, to his first Sutton Amnesty meeting  
Erkin Sidick on Chinese persecution of the Uyghur Muslim Community
We welcomed Dr Erkin Sidick speaking to us from Los Angeles on the gross human rights violations committed against the Uyghur Muslim community by the Chinese government in East Turkestan ('Xinjiang' in China). Dr Sidick, born in East Turkestan, worked as a teacher/researcher in China and Japan until 1988 before moving to pursue an academic career in the US followed by scientific roles in Silicon Valley and NASA. He is Senior Advisor to the World Uyghur Congress, founder of the Uyghur Academy and President of the Uyghur Projects Foundation.
Dr Sidick told us he was in close contact with many people in Xinjiang, although he believed he would be killed if he returned to Xinjiang himself. He went through a couple of case studies about the disappearance and subsequent death and also torture of Uyghur Muslims in China. This is part of the campaign to ultimately eliminate the Uyghurs as a distinct cultural group.
The campaign against the Uyghurs has been and continues to be conducted in great secrecy by the Chinese hampering the availability of reliable information. Nevertheless, since 2014 when the campaign began and 2017 when it was stepped up, most commentators suggest that perhaps one million Uyghurs have been arrested/put into camps.
Dr Sidick explained the rationale for the treatment as follows:
China wants to avoid a collapse along the lines of that which happened in the Soviet Union when different races/cultures achieved independence
many of the 'Belt and Road' trade route initiatives start in Turkestan and the Chinese want these secured
they perceive the biggest internal threat in the event of war as potential Uyghur disloyalty
opportunity (there has been no resistance from the UN and other Muslim countries - indeed some of the latter have repatriated Uyghurs)
lack of visibility (Uyghur numbers are comparatively small and in a particular geographical area)
The campaign is effected by undermining Uyghur reputation ('they are terrorists') and their economy and culture. This is done through mass surveillance, restrictions on movement, intimidation to prevent religious observance and political indoctination in 'reeducation camps'. It involves torture and imprisonment and all five aspects of the UN definition of genocide https://www.un.org/en/genocideprevention/genocide.shtml  Dr Sidick believes that the number of Uyghurs arrested and killed is higher than acknowledged in most reports (even from Human Rights organisations). He also cited reports of 'organ harvesting'.  
Some further reading/sources on the treatment of the Uyghur community
Dr Mohamed al-Roken - Sutton Amnesty Group Prisoner of Conscience
Our Chair went through the proposals for a campaign of 100 letters/emails to the UAE embassy on behalf of Dr al-Roken. This was welcomed by the Group, each of whom will write to the embassy every fortnight from the date of our meeting through to mid-June. We are well under way at the date of this email. If you are not on the rota and want to join in please let our Chair know - it would be great to send even more letters and emails on behalf of Dr al-Roken.  
Urgent Action cases
Our Secretary went through the cases for the February meeting - draft emails had been sent out that week. The four on whose behalf we are writing are:
Upcoming Event
There will be an Amnesty demonstration on International Women's Day (Tuesday 8 March - the day after our meeting) in support of Afghan women and girls outside the embassy of Afghanistan. More details here: https://www.facebook.com/events/942966383070118/
View latest posts