Amnesty Sheffield - 2015 in Review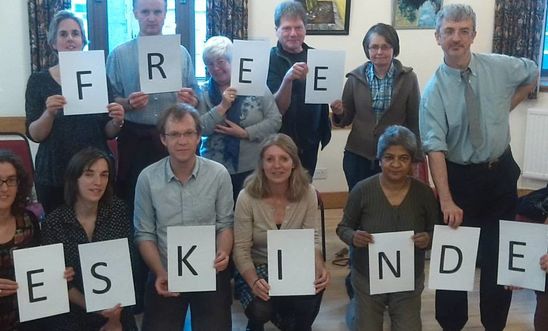 Our May Meeting - taking action for jailed journalist Ekinder Nega
Sometimes in Amnesty, especially when in amongst the weeds, it's easy to forget quite how much we do as a movement and as a group. So, it was pleasing that as part of our January meeting we were reminded of some of the highlights of our 2015
Of course, the greatest event was Moses Akatugba being released. Moses was one of "our" cases (thousands of people sent letters on his behalf) – so to have him released, after following his story so closely was very pleasing. We sent him a card for valentine's day, and a birthday card in March and a petition on his behalf in May. In June he free. Hopefully we will have some similar successes in 2016!
Other things we did last year:
Our May meeting featured a from Patricia Bartley (AIUK Country Coordinator for Ethiopia) and the Doncaster Amnesty Group had it's first meeting (Gemma, the chair, used to come to our group!). We wrote to every Parliamentary Candidate in Sheffield, asking them what they would do for human rights if elected.
Our June meeting was in Broomhill, as part of their festival. Seventy People heard talks about the development of human rights, From Magna Carta to the Universal Declaration, and were asked the questions "Would we miss the Human Rights Act?" (The answer was yes)
July saw our first ever letter writing meeting – still going strong at the University Arms on the 4th Wednesday of each month, starting at 1915
As the Quaker Meeting House was closed in August we had a picnic in Weston Park, the weather held and there were ball games.
In October Dr Kachi Ozumba spoke at our meeting about author (and former Amnesty Prisoner of Conscious) Jack Mpange as part of the Off the Shelf literature festival. 
We had our annual street collection in November, down Ecclessal road on a particularly cold day. We collected over £200 from the generous people of Sheffield
Finally, in December we sent 143 greetings cards as part of Amnesty's global Write for Rights campaign.
In addition, over the year we had stalls at the Heeley, Sharrow and South Yorkshire Festivals, as well as ones at Sheffield Pride and the Peace & Craft Fair. We also wrote letters to the governments of Sudan, Saudi Arabia, Myanmar, Cuba, Russia Federation, Spain, Turkey, Canada, El Salvador, Ukraine, Cameroun Libya, Belarus, Ethiopia, Iran, Chad, the USA and our very own too.
If you'd like to join us work for a world in which everyone's human rights are respected, protected and enjoyed do come along to one of our meetings. We have one on the second Wednesday of every month at the Quaker Meeting House on St James' Street, starting 1915. If you'd like to know more you can email us at amnestysheffield@gmail.com, or have a look at our Facebook page: https://www.facebook.com/AmnestySheffield
View latest posts