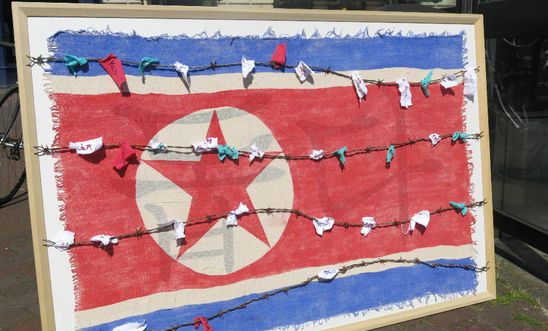 The photo shows the board prepared by Karen on which a piece of cloth was attached by all those who signed the petition. © PC
Over 180 people signed an Amnesty International petition in Salisbury city centre on Saturday 8 June calling on North Korean leader Kim Jong-un to close the country's network of brutal political prison camps.
Over the past few months the media's attention has been focused on North Korea's military threat, but for many years Amnesty has been helping to expose the brutality of the secretive regime.
Thousands of babies have been born into the terrifying political camps. Shin Dong-hyuk – the focus of Saturday's event – was condemned to a life of imprisonment, torture and slavery when he was born into the secret Camp 14.  His parents were political prisoners condemned to a life in the camps for speaking out against the North Korean regime. When he was 14 he was forced to watch as his mother and brother were executed.
At the age of 22 he escaped.
On Saturday members of the public, as well as signing the petition, wrote their initials on coloured scraps of cloth and snagged them on barbed wire stretched across the North Korean flag as a sign of their support for the campaign. The word "HELP" was painted in North Korean into the fabric of the flag.  Group member Karen, who organised the event said 'I was delighted by the number of people who were willing to stop and speak about the the situation in North Korea and who were willing to sign the petition.' 
View latest posts