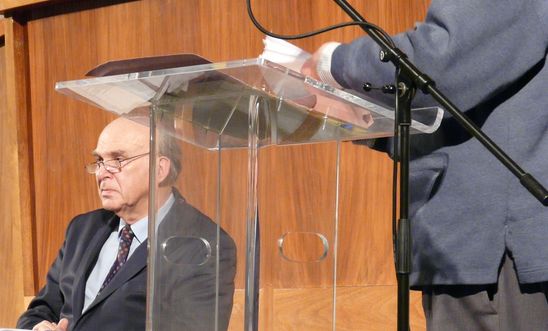 John Reekie presenting the petition to Vince Cable MP
Richmond & Twickenham Amnesty group is part of the Twickenham, Richmond and Kingston Network against the Arms Trade (TRAKNAT). On Thursday 29 November, TRAKNAT held a public meeting entitled "The Arms Trade and its imact on Human Rights and Poverty" and hosted by Duke Street Church in Richmond.
The meeting was very well attended and gave an opportunity for local residents to voice to some serious concerns about Britain's continuing involvement in the Arms Trade. Paul Tippell, speaking on behalf of TRAKNAT members, summarised the current situation, highlighting the shameful fact that in promoting arms sales the British government ignores its own rules which prohibit such sales to countries where they may be used for both internal repression and external aggression.
Vince Cable, Secretary of State for Business, Innovation and Skills, gave generously of his time in order to respond to questions put to him by members of TRAKNAT and the audience. It was disappointing to hear that Zac Goldsmith, MP for Richmond Park, who had initially accepted an invitation to participate in the meeting alongside Dr Cable, subsequently withdrew because he had double booked and therefore attended instead a charity event in central London.
Questioning was robust but thoughtful and in general the mood of the meeting was challenging toward Dr Cable, who gave the impression that he can be a polished public speaker, adept at sidestepping serious issues.
The TRAKNAT and CAAT petitions, both on paper and online, were presented to him, conveying very clearly that many residents of Richmond, Twickenham and Kingston are deeply worried by and critical of the government's promotion of arms sales and what this means in terms of its commitment to human rights, environmental sustainability and social justice worldwide.
View latest posts