Fiji: Tyranny and Torture in "Paradise" with Shane Enright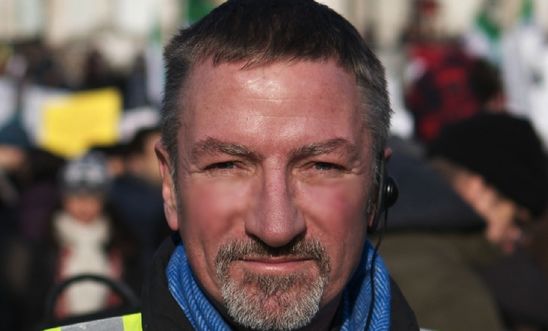 For our March 2013 Meeting we welcomed our speaker, Shane Enright (pictured), AI UK Trade Union Campaigns Manager, AI Global Trade Union Advisor and temporary honorary Researcher for the Asian Pacific area, who came to talk to us specifically about human rights in Fiji.
Shane began with an amusingly modest description of how he came to visit in Fiji as a Global Union representative in the 1990s. It was only some years later that he joined the staff of AI, which has never had a representative in Fiji, and it was not until much more recently that he again became involved in campaigning with the trades unions on behalf of working people in Fiji
We learned about the political conflict which developed in Fiji following British withdrawal in 1970. Between 1987 and 2006 there have been four coups, the last of which brought about a military dictatorship resulting in the dissolution of parliament, severe restrictions on freedom of assembly and expression, interference with the judiciary and more recently denial of union rights and harassment of the trades unions. This in a country where 60% of the population survive on less than one dollar per day.
As a result, the Labour movement there turned to Amnesty for support. A report was published highlighting where changes needed to be made, but although this gave some protection to the trade union movement in Fiji, little else has changed.
In spite of external pressure to hold democratic elections, the military dictatorship has continued, meanwhile introducing censorship of news and the media and giving added powers to the security forces. Although promises have been made that there will be a shift towards democracy in 2014, the regime is still criticised for suspending the constitution and committing human rights violations by arresting and detaining those who oppose it.
In 2009, as a result of its failure to hold democratic elections, Fiji became the first nation ever to have been suspended from participation in the Pacific Islands Forum, although it still remains a member. Later that year it was also suspended from the Commonwealth of Nations for the same reasons.
Shane pointed out the importance of such measures in persuading the Fijian government of the need for change. He described how countries which are important to its economy, including Australia and New Zealand (tourism), Japan (woodchips) and the UK (sugar), are being encouraged by the Labour Movement to exert pressure on the regime. We also heard how Amnesty and the TUC have used the Fijian's participation in the Rugby World Cup to send a message of solidarity and hope to oppressed workers there. Shane was especially appreciative of Richmond and Twickenham Group's support for joint Amnesty-TUC leafleting of the recent Fiji-England friendly at Twickenham. Often it only takes a few people in the right place at the right time to have a human rights impact and the people of Fiji will certainly have learnt that we were leafleting that match in support of their human and workers' rights.
Although Amnesty has no current action for Fiji, Shane alerted us to the case of a 15 year old girl in the Maldives, raped by her stepfather but subsequently found guilty of 'fornication' and threatened with 100 lashes and asked us to write on her behalf.
Read her story here.
View latest posts