February and March Monthly Meetings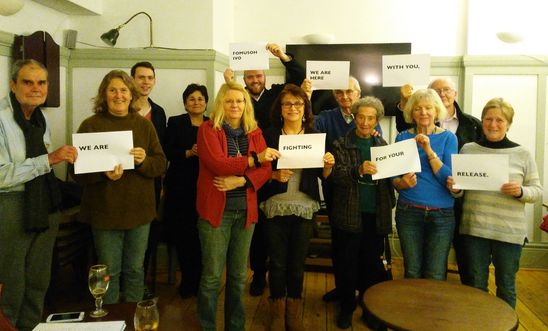 At our February 2017 meeting we were fortunate to have as our speaker Krisztina Sáróy, one of Amnesty`s Country Coordinators for West and Central Africa. Krisztina gave us a fascinating and succinct account of the many issues in the area which Amnesty is concerned about. Below you can see a photo of the solidarity action for Fomusoh Ivo by R&T members.
Our next meeting will be on Thursday 9th March from 8pm - 9.30pm at The Twickenham Club, Church Street, Twickenham, TW1 3NJ.
Our speaker will be Jeni Dixon, Amnesty's Community Organising Manager, who will be coming to talk to us about Amnesty's aim and purpose, it's global structure, global finance and fundraising models. Jeni will also answer questions. 
We hope that many of you will take this opportunity to understand more about the current structure of Amnesty.
View latest posts