A Successful Regional Meeting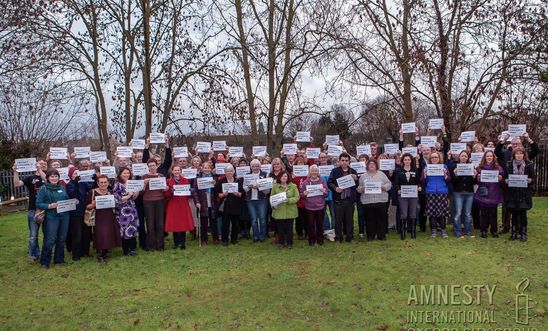 Oxford City Amnesty Group very much enjoyed hosting the annual Amnesty International South Midlands Regional Conference at West Oxford Community Centre on Saturday 18th January. It was an occasion to celebrate the courage and commitment of human rights defenders around the world and to reflect on our plans for the year ahead. Amnesty members and supporters were out in force, and many letters signed. It was exciting to share insights and resources and to see how our campaigning fits into the bigger picture.
Highlights included a mass visual action for Syria (see photograph), an engaging panel discussion and an address by Kate Allen, director of Amnesty International UK – as well as a delicious bring and share lunch. There was the opportunity to learn more about becoming a Country Co-ordinator for Amnesty International UK as well. Our thanks to all those who attended and especially to our hardworking volunteers for making it possible. 
View latest posts