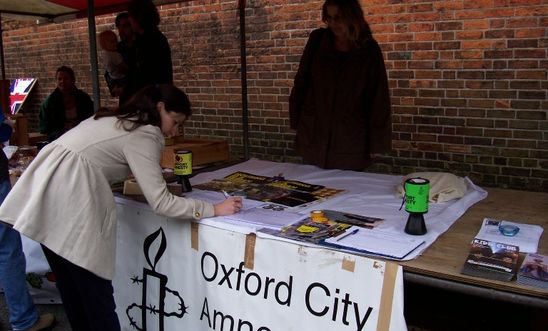 Welcome to the Oxford City Amnesty group website.
Listed here is information on meetings, group events, the campaigns the groups cover, as well as contact details and information on joining the group.
The group is made up of volunteers who carry out actions to promote the campaigns of Amnesty International.  Actions can range from simply writing letters or emails in your own time to organising public awareness events. 
Campaigns
The Oxford City Amnesty group is currently focusing on these campaigns, click on the campaigns for more information:
General Meetings
The Oxford City Amnesty group meets the 3rd Tuesday of every month apart from August at the Oxford Town Hall on St. Aldates (OX1 1BX) from 7:15 to 9pm.  The format includes letter writing, an Amnesty campaign focused workshop (usually) and a short meeting on news and events.
Note that due to covid-19 meetings are currently held on-line.
Meetings are open to everyone.
Other Organisations
There a number of other Oxford-based organisations, whose work you may be interested in. Please note that none of these groups are affiliated with Amnesty International: