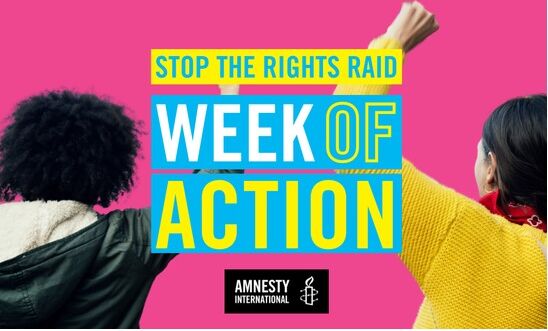 "Stop the Rights Raid" Week of Action
Human Rights in the UK are under threat from legislation currently before the Westminster Parliament. An attempt to weaken the Human Rights Act is likely to follow soon.
POLICE, CRIME, SENTENCING AND COURTS BILL
Undermines the right to peaceful protest
Extends police powers already used disproportionately against people of colour
Criminalises the way of life of Gypsies, Roma and Travellers
We will be demonstrating in Oxford on Saturday 9th October, urging people to oppose three Bills currently before Parliament, which if implemented will erode our Human Rights. You can find out more here:
https://www.amnesty.org.uk/stop-rights-raid-week-action
Please join us if you can. The weather forecast is dry. It will be fun. We will have placards and a banner, and flyers or leaflets to distribute. If you have never demonstrated before, come and try it! 
Saturday 9th October, 12.00 to 2.00 pm (or longer if we feel like it) Bonn Square.
PLEASE JOIN US IN TAKING THIS SIMPLE ACTION
Email your MP and urge them to vote against the bill. An example text is:
'I am writing to urge you to vote against the Police, Crime, Sentencing and Courts Bill. The sections on protests and trespass undermine our basic human rights and freedoms by giving such wide and vague powers to ministers and police that they could prevent or limit our ability to peacefully express our opinions. Events in other democratic countries like USA and Hungary have shown that democracy needs alert defenders.' 
Not sure who your MP is? Enter your postcode at:
Downloads
View latest posts