Zimbabwe 2013 - campaigning for elections free from fear and violence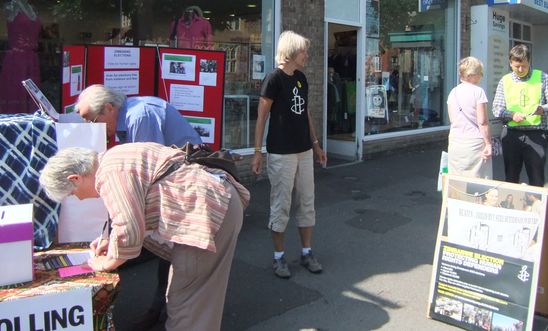 At our May meeting, the Minehead Group took part in a workshop led by member, Susan Mew. The group learnt about the situation in Zimbabwe and the campaign which is one of AIUK's priorities for 2013. In 2008, the elections resulted in 200 people being killed, 10,000 were injured, and 28,000 were forced to flee their homes. The hospitals even ran out of crutches. Amnesty wants to stop the bloodshed happening again in 2013 and believes that the Southern African Development Community (SADC) can play a key role in influencing the Zimbabwean authorities and the main political parties.
In Minehead we set up a street stall and polling booth on the morning of Friday 5 July and invited passers by to sign cards to key members of the SADC. They signed cards in our mock polling booth and posted their cards in a ballot box. We were delighted with the results - we collected 120 card addressed to the President of Tanzania, who is currently the chair of the SADC, and also a further 28 cards to the President of South Africa. In addition, we invited visitors to our stall at the Watchet fete on 28 July, to sign action cards. In this way, we added a further 60 or so cards to send off, which was a very good result.
View latest posts