Campaigning for Individuals at Risk - Pussy Riot are free!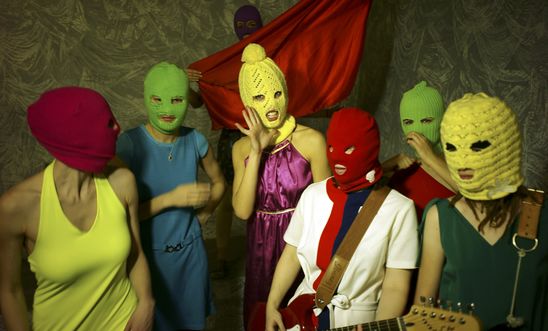 Pussy Riot
Members of the Minehead Group were delighted to hear, just before Christmas, that the two remaining members of the Russian punk band Pussy Riot, who were still behind bars, had been freed from prison. Maria Alekhina and Nadezhda Tolokonnikova had spent nearly two years in prison before they were freed by the Russian authorities.
Individuals at Risk is a priority campaign for Amnesty International UK. So, in the summer of 2013, our group decided to take on another case file - to add to the one we already have on behalf of a lawyer in Equatorial Guinea.
At our July 2013 meeting, our member, Cherry Bird, told us about our new action file - concerning members of the Russian punk band Pussy Riot.  In August 2012, Moscow's City Court jailed three members of the band for two years.  They were convicted of 'hooliganism on the grounds of religious hatred' after playing a gig in Moscow's main Orthodox cathedral, miming to lyrics criticising the relationship of President Putin with the Orthodox Church.  AIUK believed their trial was unfair, that they were being punished harshly on politically motivated grounds and that their right to free speech was curtailed. Amnesty therefore adopted them as prisoners of conscience. 
In October 2012, Ekaterina Samutsevich was released with a suspended sentence.  The other two women were sent to labour colonies.  Their appeals to have their sentences deferred until their young children were older were not granted.  Maria Alekhina was held in a punishment block, because of alleged threats from other inmates. Amnesty was very concered about the treatment of the women in the penal colonies and about the conditions they were being kept in. So we sent many letters to the authorities and many messages of support to the women in the six months when our group was actively campaigning on their behalf.  We were all very relieved to hear of their release in December 2013.
But more still needs to be done and Russia's Amnesty Law, under which they and others were released, is no substitute for an effective, independent justice system. There is an on-line petition on the main AIUK website which you can sign. This petition calls on President Putin to stop the crackdown on civil society in Russia.
View latest posts