North West Regional Conference 2014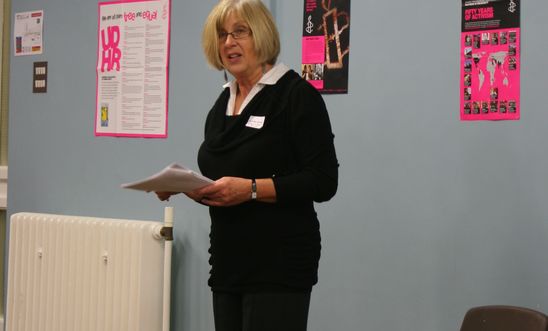 Amnesty North West Regional Conference 2014
On 8 November four of us represented the group at the North West Conference. Jennifer was one of the organisers and we all hoped to learn and find fresh motivation and inspiration for our roles as activists.
The conference opened with two compelling accounts from Human Rights Defenders, Katsiaryna Borsuk and Hikma Ahmed, about their battles in Belarus and Sudan respectively, to protect and promote the human rights of their fellow citizens. Their presentations illustrated the dangers and challenges of activism in societies where freedom and dignity is frequently denied.
Richard Glynn and Laura Trevelyan then helped delegates think about how campaigning and fundraising can be combined, using the talents within groups and developing commitment amongst local politicians.
After lunch,  delegates donned " Stop Torture " t shirts and grasped placards, to walk to Chester Town Hall where, in the middle of an unexpected array of army vehicles and personnel , we chanted " Stop Torture Now " and got action cards signed.
The conference was addressed by Kate Allen, AIUK Director, who gave a global and national update. Discussion covered The Human Rights Act and "The Lobbying Act" and current challenges.
After a panel discussion on the work of Country Coordinators, delegates attended one of 3 workshops on Nigeria, Mexico or Philippines. John, Glynn and I attended one each so we had them all covered.
The day was both interesting and full of ideas and insights into the work of Amnesty.
View latest posts