MPs listen to our campaign on Afghanistan Women's Rights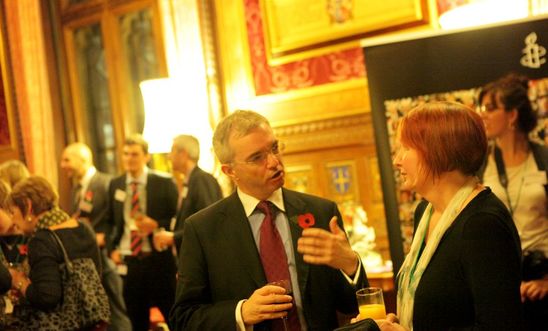 Mark Menzies MP and Karen Merritt discuss the Afghan Women's Rights Campaign © Amnesty International UK
On 6th November the Speaker of the House of Commons and Amnesty International UK hosted a reception in Speaker's House:  From Afghanistan to the UK:  why activism makes a difference to women's rights
The reception focussed on the role of activism both here in the UK, and of Human Rights defenders in Afghanistan and the dangers that they face every day. Karen Merritt attended the event on behalf of the Lytham St Annes and Blackpool Amnesty International Group, and was joined at the reception by Mark Menzies, who is MP for Fylde and a PPS at the Department for International Development (DfID).
AIUK is calling for the UK government to improve its support and protection to women human rights defenders in Afghanistan. 
The reception went well. It was wonderful to see so many people turning up in support of Afghan women, and especially the number of young women from schools and universities. It gave me great hope for the future of Amnesty's work.
John Bercow, Speaker of the House of Commons opened the event and spoke very highly of the work of Amnesty. Both John Bercow and Mark Menzies stressed how important it is for MPs to hear from campaigning groups such as Amnesty, so they get to know of human rights abuses.
There were inspirational talks from Samira Hamidi, Afghan woman human rights defender and Programme and Advocacy Director , Employment Centre for Women and from the author Natasha Walter, founder of Women for Refugee Women.
The event had screens up showing the photos of the actions taken by all the various Amnesty groups, including the actions taken by the Lytham St Annes and Blackpool Group. So ourmembers Julie, Glyn, John W and Val all made an appearance at the event! 
View latest posts