Amnesty Supports Blackpool Pride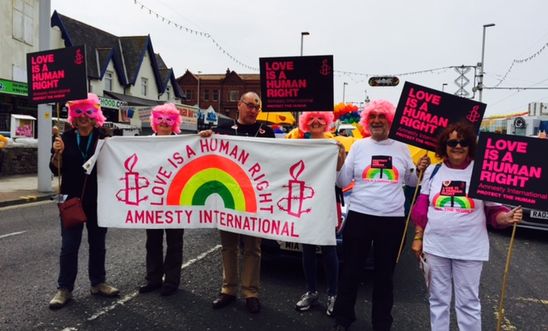 Blackpool Pride: Sat June 13th 2015
We realised what a wonderful opportunity we had been missing when the group participated in Blackpool Pride for the first time. We have never had so much fun and laughter in sharing Amnesty's message that "Love is a Human Right ".
The parade was noisy and full of colour and the crowds were 2/3 deep at some points responding to the celebration.  Photos were taken by the crowd all along the route between Blackpool's iconic piers; our Amnesty banner was hard to miss, so it will appear in lots of households and bars this weekend, spreading the word about justice and gay pride.
 The Winter Gardens hosted the event for the rest of the day and the crowds poured in. The EuroPride Banner attracted huge attention and masses of signatures as people realised that they could send Amnesty's message across the world. 200 action cards were also signed to claim justice for Ihar Tsikhanyuk in Belarus and Noxolo Nogwaza in South Africa.
We learnt a lesson in visible activism today and can't wait to do it again.
To see all the photographs, please click on the link below.
https://www.flickr.com/photos/132059829@N05/sets/72157654688372475
View latest posts