Afghanistan - Time For Women's Rights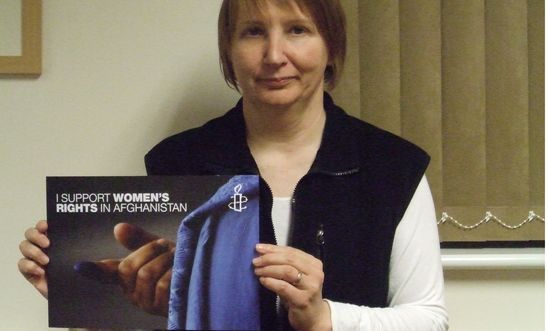 I was privileged to attend a skills sharing day in London on 9th March on the Amnesty campaign for women's rights in Afghanistan. This campaign focuses on 4 key areas:
Ensuring Afghan women can meaningfully participate in peace and reconciliation processes and calling for their rights to be protected
Ensuring women's rights are protected and promoted as security is transferred from international forces to Afghan forces
Ensuring tackling violence against women is a key priority for the Afghan government and its international partners
Ensuring the work of Afghan women human rights defenders is supported and their rights protected
The day included a panel session with two informative and inspiring Afghan women:
Samira Hamidi, who has been the country coordinator of the Afghan Women's Network spoke of the historical roots and the present situation in the country. She emphasised the increasingly dangerous future and urged the UK government and other countries to lay out their commitments for how they will support the Afghan women in the years ahead.
Horia Mosadiq, who has been Director of the Afghanistan Human Rights Research and Advocacy Consortium and is now Amnesty International's Afghanistan researcher spoke about violence against women in Afghanistan.
Some key facts:
Afghanistan has a population of  over 30,000,000
87% of Afghan women experience domestic violence.
There are currently 14 shelters for victims of domestic violence in Afghanistan. None of these is receiving sustainable funding.
Only 1% of police officers in Afghanistan are female.
Women hold over 25% of places in the Afghan Parliament, but the 70-member High Peace Council (set up to negotiate with elements of the Taliban) includes only 9 women.
Afghan women first got the vote at the time of Afghan independence in 1919, and led free, independent and educated lives for most of the 20th century. 
The key messages I took from this excellent skills-sharing day were:
Afghan women are forceful and keen to have their voices heard during the ongoing peace negotiations. Their campaign is for "No Peace Without Women's Rights".
In 2001 the invading forces including the UK promised to liberate Afghan women from the oppression of the Taliban. Now in 2013 women are excluded from the peace process and their rights are being eroded.
Women in Afghanistan are calling for an end to domestic violence. The 2009 Elimination of Violence Against Women (EVAW) law is hampered by under-reporting and failure to investigate thousands of cases of violence against women. Women have been prosecuted for moral crimes after fleeing forced marriage or domestic violence. They have been convicted of sex outside marriage (zina) following rape.
At the start of the day we celebrated the fact that Secretary of State for International Development Justine Greening had acknowledged that violence against women in Afghanistan is an issue her department needs to prioritise.  Amnesty is now campaigning to have that acknowledgement translated into concrete policies. To find out more about the Amnesty campaign and actions you can take, have a look at the AIUK website listed below.
As a group we are planning an awareness-raising campaign about this issue. Please get in touch with the group if you have any ideas for this or would like to help with our campaign. Many thanks - Karen Merritt
View latest posts