Afghanistan - Mark Menzies MP Supports Women's Rights in Afghanistan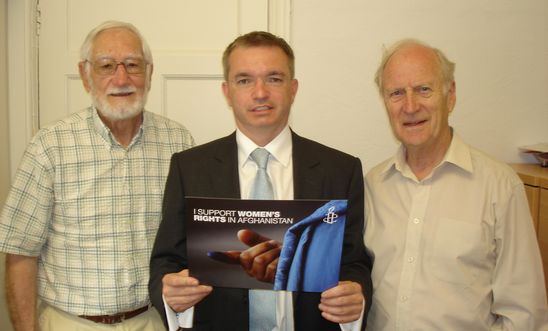 Two of our members, John Wayland and Glyn Eatock,  met with Mark Menzies MP for Fylde on 8th June, to highlight the Amnesty Campaign supporting women's rights in  Afghanistan.
The meeting proved very useful. We shared with Mr Menzies our concerns about the need for women to be fully involved in the forthcoming election. It was a view he fully shared, and he was pleased to sign the 'Petition Card' in support of the Amnesty campaign.
Mr Menzies also agreed to share with us any 'Human Rights' issues, in other parts of the world he came across in his ministerial travels, so that we could advise him of the relevant Amnesty International viewpoint.
View latest posts