Screening "The Mauritanian" with Mohamedou Ould Slahi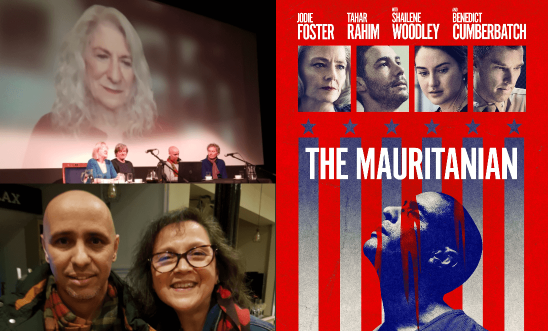 Our screening of "The Mauritanian" at drew a large audience to Trinity Theatre in Tunbridge Wells on Sunday evening. We were privileged to have in our midst the former Guantanamo prisoner and author on whose memoirs the film is based, Mohamedou Ould Slahi.
Mohamedou's excellent humour, kindness, humility and wisdom shone through, while he signed a mountain of his books, and won him more fans during the Q&A session after the film.
Joining him on the panel were director Kevin MacDonald; Guantanamo expert Andy Worthington, and via Zoom Nancy Hollander, the lawyer who got Mohamedou released (and was portrayed in the film by Jodie Foster). Chairing the panel was Amnesty Lewes's Sara Birch, driving force behind the UK network campaigning to close Guantanamo.
Guantanamo is still open after 20 years, and 38 men still linger in this torturous jail. We encourage more local Amnesty groups to screen "The Mauritanian" at their local cinema or other arts venue.
If you are interested in organising a showing, please read more advice here and contact info@amnestylewes.org. For more on Amnesty's work on Guantanamo, Lise Rossi is Country Coordinator for North America.
This event was organised by Dominique O'Neill for the UK Guantanamo Network, which is led by Amnesty Lewes, with the Amnesty UK Kent Network and London Region, Close Guantanamo, Freedom From Torture, Guantanamo Justice Campaign, London Guantanamo Campaign, and Lise Rossi.
View latest posts