Monthly group meeting - join us!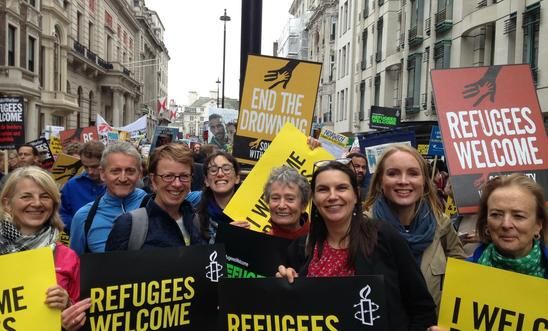 Isilington and Hackney Amnesty group on a human rights demonstration
Second Wednesday of each month from 7-9pm.
Hybrid on-line and in-person meetings at the Human Rights Action Centre, 17-25 New Inn Yard, London EC2A 3EA (nearest stations: Old Street and Shoreditch High Street). If it's your first time, please contact us in advance, so we can send you link to join online or door pass to join in person.
Join us to take part in human rights actions, support important campaigns and run events to help raise funds for Amnesty's vital work around the world.
Wednesday 9 March 2022 AGM

Wednesday 13 April 2022

Wednesday 11 May 2022

Wednesday 8 June2022

Wednesday 13 July 2022

Wednesday 10 August 2022 Summer picnic

Wednesday 14 September 2022

Wednesday 12 October 2022

Wednesday 9 November 2022

Wednesday 14 December 2022 Write for Rights
To get joining details for our online meetings and an entry pass for in-person meetings, please contacts us to be added to the IHAG mailing list. You will then receive regular updates, including the full agenda for each meeting advance.
View latest posts