Syria's Disappeared: Director's Q&A - 1 September 2018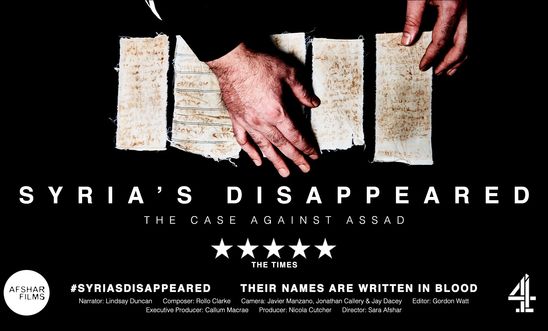 Syria's Disappeared tells the hidden story of tens of thousands of men, women and children disappeared by the regime of President Bashar al Assad into a network of clandestine detention centres.
The film weaves together the powerful personal stories of three Syrians with evidence gathered from regime documentation smuggled out of Syria.
With unprecedented access, the film follow survivors of detention, families of detainees, regime defectors and international war crimes investigators as they fight to bring the perpetrators to justice and desperately campaign for the release of the disappeared.
"Sara Afshar's brilliant and sickening documentary about the Assad regime's systematic torture of dissidents is required viewing for MPs." - The Times
"devastating ...vital viewing" - The Guardian
Sara Afshar is a BAFTA-nominated director, with over 20 years' experience as a journalist and filmmaker. She has worked for BBC Newsnight, C4 News, BBC Panorama and C4 Dispatches. Her last documentary, 'Syria's Disappeared: The Case Against Assad' won the British Journalism Award 2017 for 'Investigation of the Year'.
There will be a Q and A following the film with the director, Sara Afshar, Amnesty's Syrian coordinator, Ellis Brookes, and a Syrian former detainee or activist (TBC)
View latest posts