Summer Fair on Islington Green - 23 June 2018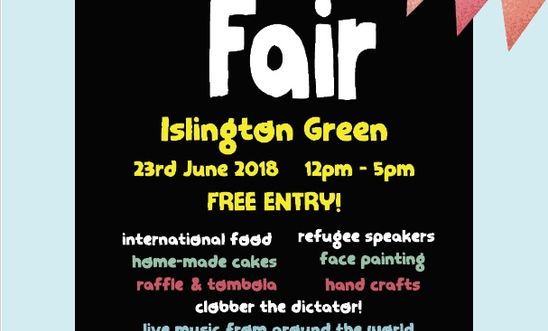 Islington Green Summer Fair
12-5pm Saturday 23rd June 2018, Islington Green N1 1QN
Speakers include Meg Hillier MP (Hackney South and Shoreditch), Syrian activist Ahmad al-Rashid (from BBC's Exodus), comedian Sajeela Kershi , psychotherapist Dr. Hailay (from the International centre for Eritrean Refugees) and Sudanese and Congolese speakers from Refugee stories. Music from Tabrae, the Syrian Choir and many more.
In addition to the stage performances there will:
Food including traditional Nigerian fayre, vegan Ethiopian dishes and home-baked cakes;

Traditional stalls including a tombola, face-painting and craft making;

Sale of books and jewellery, clothes and crafts from around the world;

Henna painting and Indian head massage;

Information and action

stalls run by Amnesty and local refugee organisations;

Interactive games on the theme of the day.

;

A school arts competition on the theme of family;

An replica of

Amnesty's installation

raising awareness about the Refugee Family Reunion Bill.
The fair celebrates the contribution made by refugees to our communities with music and performances. The event has been organised by Islington and Hackney Amnesty Group to highlight the challenges facing asylum seekers in the UK as part of Amnesty Internationals I Welcome refugees campaign.
Programme
12.20 Speaker and MC: Comedian Sajeela Kershi. Sajeela has recently returned from Turkey where she was delivering aid to Syrian refugees.
12.30-12.50 Music: Afrika Jambo Band featuring Mr Kawele (singer/ guitarist from DR Congo)
12.50 Speaker: Dr Sarah Hailay, Eritrean psychotherapist working as a consultant for The International Centre for Eritrean Refugees  - assisting refugees and asylum seekers who experience emotional and psychological trauma. 
1-1.15 Music: Zelal Sahin, from Turkey singing Kurdish songs, accompanied by Les Levidow on violin.
1.15-1.25 Speaker: Ahmad al-Rashid, Syrian post-graduate student and campaigner. Featured in BBC's award-winning documentary Exodus.
1.25-2 Music: Afrika Jambo Band featuring Mr Kawele (singer/ guitarist from DR Congo)
2-2.10  Speaker: Meg Hillier, MP
2.10-2.20 Speaker: Sajeela Kershi, talking about Amnesty International's refugee campaign
2.20-2.40   Music: Shurooq Abu El Nas
2.40-2.50  Speaker: Rufin from Congo Brazzaville, now working as a teacher in London, supporter of Refugee Tales
3-3.20 Music: Tabrae, an Iranian rapper, poet and producer
3.20-3.30 Speaker: Rashid, asylum seeker from Darfur, supporter of Refugee Tales
3.30-3.50 Music: Shurooq Abu el Nas, Sudanese singer from Khartoum
3.50-4 Speaker: Tirej Brimo, Syrian doctor from Aleppo now working at Royal Stoke University Hospital
4-4.30 Music: Shurooq Abu el Nas
4.30 Results from school arts competition and raffle prizes
View latest posts