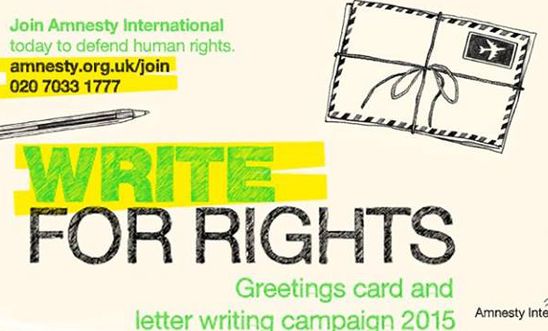 This year we are taking to the streets as part of Amnesty's Write for Rights campaign. 
On Saturday 5th December we will walk through the centre of Horsham highlighting the case of Waleed Abu al-Khair.  Waleed is a human rights lawyer in Saudi Arabia who has represented many victims of injustice including his brother-in-law, Raif Badawi.  We will be giving Horsham families and friends, who are out shopping in the centre of town, the chance to add a signature or a message to a card for Waleed  and to ask us about the campaign.
Why not join us?  We will be leaving the Friends Meeting House in Worthing Road at 11 am returning around 12 noon or drop in beforehand to add your message to the card.
There is more information on Waleed's case and details of eleven others on Amnesty's website https://www.amnesty.org.uk/issues/Write-for-Rights-2015
View latest posts