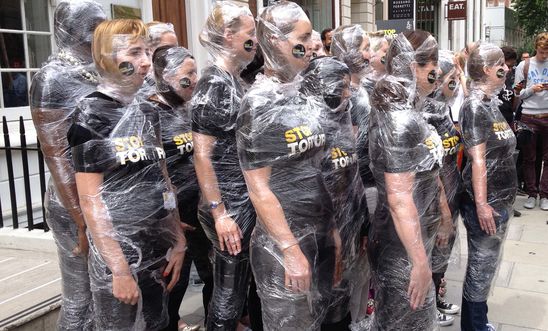 Why are they wrapped in plastic? © AIUK
Jackie and Daphne travelled up to London to join a demonstration outside the Mexican Embassy as part of Amnesty's Stop Torture campaign.
Mexican marines gave Claudia Medina electric shocks and wrapped her in plastic sheeting before beating and kicking her to disguise the marks of torture on her body. Later she was tied to a chair in the burning hot Mexican sun. She was accused of being a member of a violent gang, which she denies.
Outside the embassy Amnesty supporters were wrapped in plastic to show the Mexican authorities that we know what they're doing to people like Claudia – and they can't hide it. Kate Allen and the Mexico Country Coordinator delivered a letter to the embassy calling on the Mexican authorities to bring Claudia's torturers to justice.
 To read more about the case and sign Amnesty's petition to support Claudia in her fight for truth and justice go to https://www.amnesty.org.uk/issues/Stop-Torture
View latest posts