Escape to Safety Exhibition - June 24th and 25th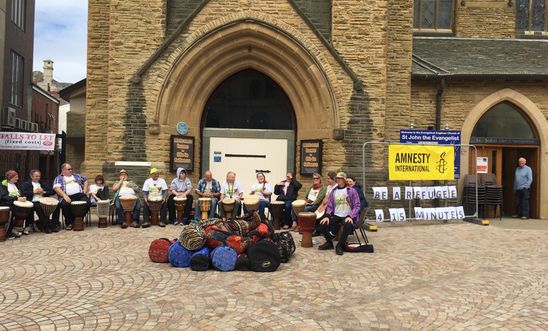 Escape to Safety - I Welcome…
On the weekend of June 24th and 25th Fylde Coast Amnesty hosted Global Link's interactive, multimedia exhibition called Escape to Safety. This was staged in Blackpool St John's Church in the centre of Blackpool as part of Amnesty International's global refugee campaign, I Welcome... It offered members of the public a 15 minute opportunity to experience what it is like to be a refugee.  It went extremely well and 168 people went through the exhibition.  The giant yellow arms outside were a great pull to get people curious. On the Saturday we shared the Square with the forces and on the Sunday we had a volunteer drumming group (which included one of our Fylde Coast group members, John Morrow) who gave a great demonstration of their skills and then gave members of the public the chance to have a go on the drums.
Those who went through the installation found it very moving and informative as can be seen from some of the written comments.
"Very distressing, everybody should go through the exhibition"
"Harrowing and emotionally draining, makes you think - we just aren't doing enough"
"Emotional, intense and factual - thank you"
"I am dismayed by attitudes in the UK to people who have suffered so much. Great work"
"Very informative - everyone should see this"
"Extremely powerful installation "
"Very moving. This ought to be compulsory for all who object to asylum seekers"
"It must be awful to feel so frightened and powerless in the face of authority" 
Downloads
View latest posts