Dawn Judd, volunteer at Care4Calais, speaks to Fylde Coast Amnesty's Open Meeting on June 5th 2017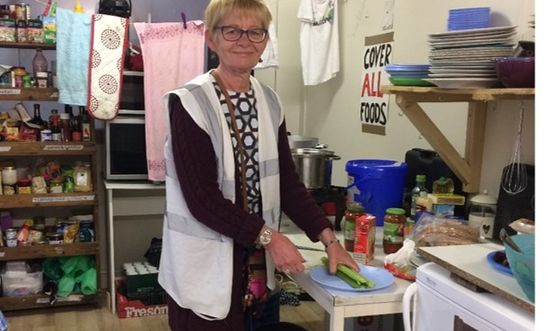 Refugees "LIVING IN TERROR," Dawn Judd tells the Fylde Coast Amnesty meeting
On June 5th 2017
Around 2,000 refugees are still living in forests, fields and allotments around Calais, said Dawn who is a recently-returned volunteer – despite the bulldozing of the Jungle camp there last October.
Semi-retired academic Dawn Judd told a packed Amnesty meeting in St Annes that the refugees faced constant abuse, threats and violence, but were kept going by the hope that they would eventually reach Britain.
Most were from Africa, fleeing terrible wars in Eritrea and Somalia. A number had been conscripted into the army at an early age, but fled when they were required to perform atrocities against their own people.
Former University of Central Lancashire lecturer Dawn, who lives in Preston, volunteered for the charity Care4Calais because of her frustration after the last Government had abandoned the so-called "Dubs Amendment."
This piece of legislation, championed by Lord Dubs, a one-time refugee from Nazi Germany, was expected to lead to the resettlement in Britain of around 3,000 unaccompanied children. However, the scheme was closed after only 350 had arrived here.
She said an estimated 250 vulnerable lone child refugees were still hiding out around Calais. She recounted the story of one who had travelled 12,000 miles, been beaten and imprisoned, and had been passed between 25 sets of smugglers.
The crisis – which she described as the greatest exodus of modern times – could have been prevented if Europe had united to offer a controlled quota system in the refugees' own countries.
As it was, Europe, a rich continent of 500 million people, had taken less than a million refugees, compared with 1.2 million for tiny Lebanon, which only has a population of 4.5 million. Uganda has even more refugees. It is estimated that political failure had led to the growth of a £7 billion people-smuggling industry worldwide.
Dawn Judd said she had been appalled by the level of violence shown by police and right-wing groups towards the refugees.
She heard constant stories about the para-military French CRS riot-control force breaking arms and legs and spraying MACE and pepper-spray. They would saturate refugees' sleeping bags with CS gas so they could not use them. She said these police were being paid, in part, by the British government as part of the UK government's contribution to the dismantling of the "Jungle" last October.
Groups of right-wingers regarded the refugees as legitimate targets for violence, but waited until charity workers were out of the way before inflicting it.
"There is a sense of fear there all the time, with very aggressive police and a culture of disbelief and suspicion," she said. "There are a lot of serious physical and mental health problems, such as post-traumatic stress disorder. It felt as though I was in a police state."
Most refugees have little sleep at night, but manage to cat-nap in the morning at a day-centre run by volunteers from the Catholic Church. The refugees are fed by another voluntary organisation, the Refugee Community Kitchen which feeds 2,000 people per day. Other charity groups distribute food, water, clothing and bedding.
Dawn added: "The notion that people will stop coming if you make things more and more difficult is wrong. The more desperate people get, the more they will try
"These are sensible, resilient people who would be a credit to any country that took them in. They are very genuine people whose dignity is profound and amazing. My dream is that we will become a country that will truly support refugees."
Downloads
View latest posts