Amnesty North West Conference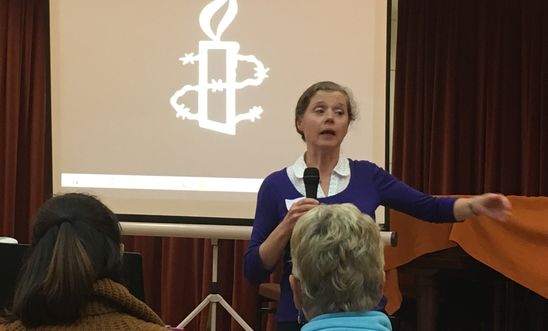 Saturday 12 November
The North West Conference this year was held in Liverpool and the theme was modern slavery.  There was a very healthy attendance of Amnesty members, including Jennifer Jaynes, Debbie Wood and Norah Lynam from the Fylde coast group and a number of non-Amnesty members from Liverpool University. The organisers, Sameena Matthiessen and the Liverpool and Wirral local groups, had secured a very knowledgeable and inspiring team of speakers to lead the day's programme. In addition to the themed programme there was an opportunity for delegates to attend workshops on the Death Penalty, Advocacy or Syria 360.
Alex Batch, the current University co-director of the Centre for the Study of International Slavery, spoke about the Modern Slavery Act, explaining that it was a consolidation of previous legislation and whilst it had many strengths it also had weaknesses.
Colin Ward, a Detective constable in the Greater Manchester Police's Modern Slavery Coordination Unit gave an interesting insight into the work of the police in investigating numerous types of slavery offences. His aim in directing the training of police officers is that they should be victim focus led.
Annette Mawdsley who leads the Liverpool Stop the Traffik group gave a fascinating but chilling account of the extent of human trafficking (which ends in slavery) across the world and particularly in the UK. She challenged beliefs that trafficking was mainly something that happened to poor people in other parts of the world. It is everywhere and her aim is to raise awareness and to train as many people as possible to spot the signs of trafficking. She was certainly very inspiring.
After the serious and uncomfortable content of the speakers' talks and the panel's discussions, Ruth Breddall, the Chair of the AIUK Board, gave an interesting and encouraging account of the successes of Amnesty International.  She did this in a thoughtful but nevertheless entertaining fashion.
The street action was in keeping with the theme of the day. The delegates, who did not know what to expect, were 'rounded' up and herded into the street, shouted at and marched into an open area in the city where they were roped into a closely packed group. The action was very effectively developed by drama students, assisted by members of the Liverpool and Wirral groups.  It referenced Liverpool's past involvement in the slave trade whilst dealing with the sinister and hidden elements of modern slavery. The drama, which had attracted quite an audience from passers-by, ended with the 'humiliation' of one individual who, though lacking the chains and shackles was, nevertheless 'the property of somebody else with no recognised identity - a slave'.  
Overall, this was a very well organised and thought provoking conference.  Congratulations to the organisers. 
View latest posts