Amnesty International North West Conference - Not Powerless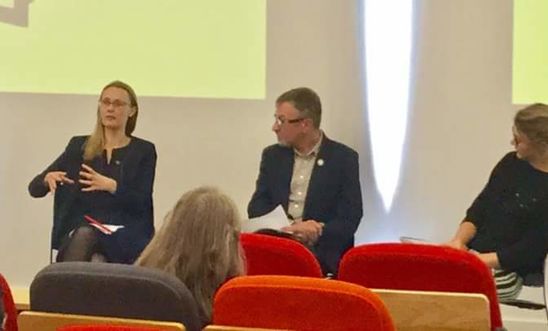 Panel discussion between Cat Smith, MP for Fleetwood and Lancaster and Hannah Perry, vice chairman of the AIUK Board, chaired by Shane Enright
AMNESTY INTERNATIONAL NORTH WEST CONFERENCE - NOT POWERLESS
The North West Conference was held on Saturday 4th November at Lancaster University. It was very well organised by Zara Ahmed and the Lancaster University student group. The day was action packed and was jointly chaired by Anne Walker of the Manchester group and Jennifer Jaynes of the Fylde Coast group. Jennifer, Julie, Nic, Dee, Bobby and Norah attended and acted as support volunteers for the conference
The Amnesty candle was lit by Jennifer and whilst doing so she dedicated it to our late and much missed member, Karen Merrit.  The keynote speaker was Tina Rothery who is a very active member of the anti-fracking movement, UK Nanas against Fracking.  She delivered a passionate speech during which she focused on the fact that when groups of people work together they are not powerless. She also drew parallels between the determination of both the anti frackers and Amnesty activists. In a situation of injustice, both movements prefer to do something, however small, rather than do nothing at all.
The panel discussion between AIUK Board member, Hannah Perry and Cat Smith, MP for Fleetwood and Lancaster was brilliantly chaired by Shane Enright, Amnesty's Trade Union campaigner and advisor. The discussion was very inspiring and it focused on the state of human rights in the UK.  It was very interesting to listen to Cat Smith's tips for lobbying MPs ie 200 postcards landing on an MP's desk are more effective than 200 emails.
The Q&A session with AIUK Board members Hannah Perry and Abigail Grant gave conference participants a forum for asking questions about the organisation and future planning of AIUK. The questions were well fielded by Hannah and Abigail and again, Shane Enright demonstrated his skill at chairing the discussion.
The workshops offered opportunities to learn about:-
How vital the media is to Amnesty's campaigning - Niall Couper (Head of Media AIUK);
The BRAVE campaign on human rights defenders – Becky Dallinson (Urgent Actions coordinator AIUK);
Refugee rights – Gisella Reynolds (Global Refugee Link);
BRAVE/Iran Workers Rights – Shane Enright (Trade Unions AIUK).
The day was inspiring and it gave people the opportunity to both learn and to network with members of other groups across the North West.
View latest posts