Amnesty International Conference and AGM 2017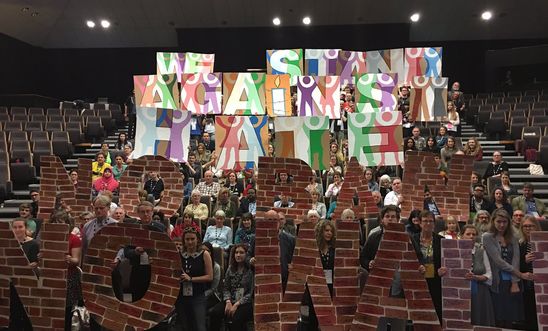 Last weekend three people representing the Fylde Coast Group (Jennifer, Anne and Norah) set off for the conference in Nottingham.  As usual it was a stimulating and inspirational weekend. 
The key note speaker was Brendan Cox, husband of the late Jo Cox MP who was murdered in June 2016. He spoke of the history that he and Jo had had with Amnesty International in a variety of campaigns over the years. In parliament Jo had said that in every decade or so the world is tested by a crisis so grave that it breaks the mould; she believed that Syria is this generation's test.  Brendan warned that the increase in hate crimes and the rise of the far right were serious threats but that this could be opposed by people reaching out to each other and to communities and by engaging with the most anxious groups, those who were more likely to be influenced by populist propaganda.  He was sure that Amnesty would play a key part in this process.
AI Director, Kate Allen spoke powerfully of the uncertain and challenging times faced by the world. She reported that after the chemical weapon attack in Syria, Amnesty would be monitoring events with urgency.  She spoke of the way in which refugees were being locked up and treated like criminals and of the rise of the far right amongst world leaders who seek to marginalise and undermine individuals on the fringe of society. She spoke of the hate which springs from not knowing what to believe and which makes people lash out at the world around them. Last year a decision had been made to put more emphasis on upholding human rights at home. Since the EU referendum there had been a 57% spike in the reporting of hate crimes which she believed related directly to the toxic rhetoric used in the campaign leading up to the referendum. The language used by politicians created a hostile atmosphere around refugees and the I Welcome campaign sought to combat this.  The Against Hate campaign which was launched shortly after the vote to leave the EU resulted in 411 councils giving reassurance that they would be on high alert and would take any incidents of hate crime extremely seriously.
Kate said that she was delighted that the plan to repeal the Human Rights Act had been placed on hold but warned that the government were planning the even more dangerous step of leaving the European Convention.  She concluded by saying that in spite of the bleak global picture there have been successes; nevertheless to do what is right instead of what is popular is not easy but that is what Amnesty is about.
The Against Hate Keynote Panel, which was skilfully chaired by the BBC reporter and presenter Nomia Iqbal-Host, discussed a range of issues around the growth in hate crimes and the influence of the rise of the far right amongst global leaders. The panel was made up of Dr Stevie Jade Hardy who was the lead researcher for the Leicester Hate Crime Project; Naureen Shah who is Director of AIUSA's Security and Human Rights programme; Fiyaz Mughal, the founder and director of the not-for-profit organisation Faith Matters and Laura Trevelyan who is AIUK's 'Against Hate' Campaign Manager.
The spotlight Talk was given by Razan Ghazzawi who participated in the 2011 protests in Syria and was detained twice. She talked about her experiences in prison and of those of other female prisoners who had undergone long term imprisonment and torture. She explained that although there was great media coverage of Syria not everything was known. She described how she had had a feeling of utter disorientation, whilst she was in prison, not knowing where she was and wondering how her captors knew who she was.  She didn't know how much they knew about her activism and whether they also had her friends and comrades and she was left wondering what awaited her. Her guards maximised this disorientation by keeping the lights on at all times. Although she was detained twice she was released twice and she was at pains to explain that her experience was not typical of a Syrian detainee because she held an American passport which, she believed, protected her from torture. Most of the detainees in Syria were accused, without any real evidence, of terrorism. She concluded by saying that there was a total of 106,000 people detained in Syria by all sides in the conflict.
The rest of the conference and AGM was taken up with some interesting workshops and some lively debate and voting on the tabled resolutions.
Attending conference is an opportunity to recharge your Amnesty batteries and to hear some powerful and inspiring speakers as well as networking with other Amnesty activists. It is worth making the effort to go.
View latest posts