Respect Festival Campaign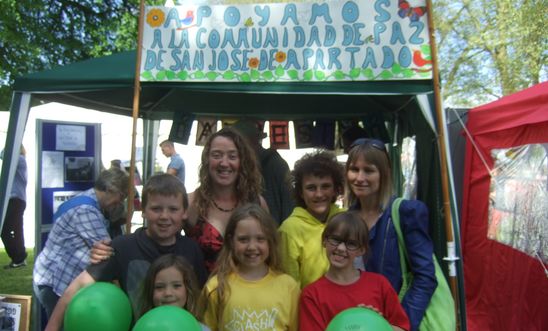 One of our campaigns at this year's Respect Festival was the San José de Apartadó Peace Community in Colombia. The 65 photos taken of festival-goers standing under the banner have since been sent to the Community to demonstrate our solidarity.
Here's some information about the Community:
The Peace Community of San José de Apartadó was created in March 1997, when people living in villages in the municipality of Apartadó, north-western Colombia, pledged not to be drawn into the conflict which for more than 40 years has pitted the security forces and paramilitaries against guerilla groups. Their stance has met with suspicion and hostility from the army, their paramilitary allies and the guerrillas.
Since 1997, more than 170 members of the Peace Community have been killed or subjected to enforced disappearance, while others have been threatened; some women have been the target of sexual violence.
The Inter-American Court of Human Rights of the Organization of American States first ordered the Colombian authorities to protect the San José Peace Community on 17 December 1997. In a Resolution on 15 March 2005, the Court reiterated that the Colombian authorities should take all steps necessary to guarantee the safety of all the members of the Peace Community, as they themselves deemed appropriate. The Court issued another order on 6 February 2008 calling for immediate action from Colombia on behalf of the Community. However, to date, the Colombian authorities have failed to take effective action to implement the Court's orders, thus falling short of their obligations under international law.
View latest posts