Good News Stories - March 2021
© Content from Amnesty International
Saudi Arabia
A human rights defender from Saudi Arabia, Loujain al-Hathloul was released February 10th, after five years and eight months in prison - partially suspended by two years and ten months - by the Specialized Criminal Court. She was charged with "spying with foreign parties" and "conspiring against the kingdom" for promoting women's rights and calling for the end of the male guardianship system in Saudi Arabia.
Amnesty International's Deputy Director for the Middle East and North Africa, Lynn Maalouf said: "[Loujain's] release after a harrowing ordeal in prison in Saudi Arabia — lasting nearly three years — is an incredible relief, but long overdue. Nothing can make up for the cruel treatment she has suffered, nor the injustice of her imprisonment. During her time in prison she was tortured and sexually harassed, held in solitary confinement and was denied access to her family for months at a time. Saudi Arabia's authorities must ensure those responsible for her torture and other ill-treatment are brought to justice. They must also ensure she is not subjected to any further punitive measures such as a travel ban. … [She] should never have been forced to spend a single second behind bars. She has been vindictively punished for bravely defending women's rights in Saudi Arabia, and for exercising her right to freedom of expression." 
Source.
____________________________________________________________
USA
Urgent Action Outcome: Pastor Steven Tendo a 35-year-old pastor and asylum-seeker has been released from detention. He fled from torture and other severe human rights violations in Uganda and requested asylum in the USA, before being held by US authorities in immigration detention since December 2018. He was at risk of being returned to danger in Uganda in September 2020, but emergency global campaign efforts on his behalf prevented his deportation. While in detention, his health deteriorated from inadequate medical care for diabetes amidst a COVID-19 outbreak in the detention facility.
In September, Amnesty helped stop his imminent deportation. And now, due to sustained global advocacy and activism, a new administration in the USA finally released Pastor Steven Tendo. Our work to free Pastor Steven is a crucial part of Amnesty USA's priority 100 Days campaign to convince President Biden to free people – including all the families – from detention. Freeing people from detention is a first step in resetting the immigration detention system in the USA.
Pastor Steven is now free on parole while he awaits the adjudication of his asylum claim.  Source.
____________________________________________________________
Poland
Three human rights defenders have been acquitted. Elżbieta, Anna and Joanna were tried for 'offending religious beliefs' under article 196 of the Criminal Code (C.C.) in relation to the use of posters depicting the Virgin Mary with a rainbow halo symbolic of the LGBTI flag around her head and shoulders. They were facing up to two years in prison.
The authorities arrested and detained Elżbieta in 2019 after she took a trip abroad with Amnesty International. The authorities opened an initial investigation against her in May 2019 and in July 2020, they officially charged the three activists. The Polish authorities alleged that the three activists pasted the posters on 29 April 2019 in public places in the city of Plock and have 'publicly insulted an object of religious worship in the form of this image which offended the religious feelings of others'.
Article 196 provides overly broad scope to the authorities to prosecute and criminalize individuals, contravening their right to freedom of expression. As such, it is incompatible with Poland's international and regional human rights obligations.
160 000 people have joined Amnesty International's campaign urging the Polish Prosecutor General to drop the unfounded charges against the three women human rights activists.
Responding to the good news, Catrinel Motoc, Senior Campaigner in Amnesty International's Europe Regional Office said: "These three women have been on trial simply for their peaceful activism, on charges which should never have been brought. They had risked up to two years in prison simply for standing up for LGBTI rights in a climate of hate and discrimination in Poland.
Distributing posters of the Virgin Mary wearing a rainbow halo should never be criminalized, so it is absolutely correct that they have been acquitted. Targeting these activists with such absurd and unfounded charges is emblematic of, and unfortunately consistent with, a much wider pattern of harassment and intimidation of human rights activists all across Poland. The acquittal of these brave human rights activists shows that the prosecution attempt was nothing more than an intimidation tactic from by Polish authorities. We urge them to stop using the criminal justice system to target and harass human rights defenders simply because of their activism."
Source.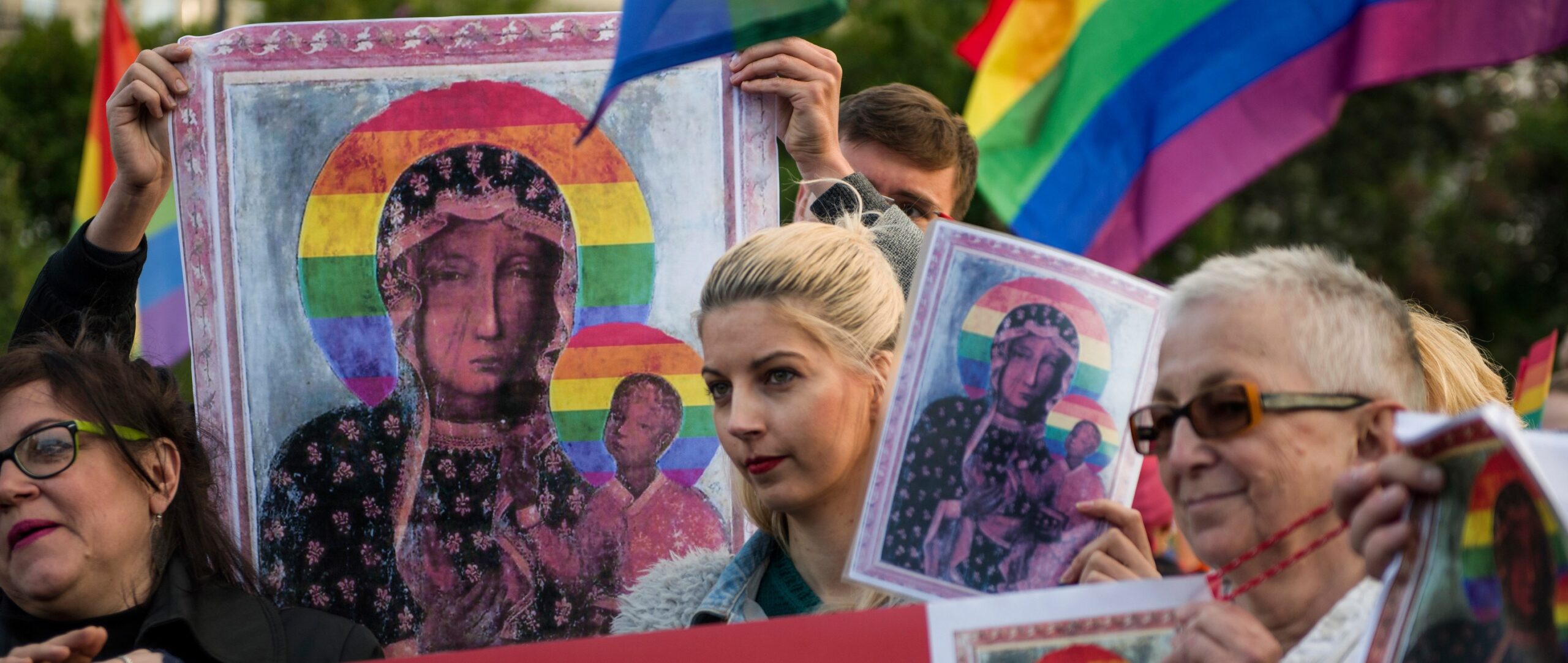 ____________________________________________________________
View latest posts