Good News Stories - February 2021
© Content via Amnesty International, BBC & Yahoo News.
United Kingdom
Activists peacefully attempted to prevent the deportation of 60 people at Stansted Airport in 2017. Responding to news that the Stansted 15's High Court appeal has been successful,
Kate Allen, Amnesty International UK's Director, said: "This is a good day for justice. The Stansted 15 will take their place in the history books as human rights defenders who bravely brought injustices perpetrated by the state into the light. This case should never have been brought, the charges were disproportionate to the actions of the group and there must be lessons learnt for how we treat human rights defenders in this country."
The "Stansted 15" were tried in relation to their attempt to prevent the deportation of a group of people at Stansted Airport in 2017. The 15 human rights defenders took non-violent direct action to prevent the deportation of 60 people on a charter flight bound for Ghana and Nigeria. Their actions - which at no point harmed anyone - prevented the flight from leaving. Of the 60 individuals due to have been deported, at least four have since been granted permission to remain in the UK, with others still pursuing their claims.
Initially, the Stansted 15 were charged with aggravated trespass, but four months later this was changed to "endangering safety at aerodromes" - a serious terrorism-related charge which has a maximum penalty of a life sentence.
Ahead of the trial, which began at Chelmsford Crown Court in 2018, Amnesty wrote to the Director of the Crown Prosecution Service and the Attorney General calling for the "endangering safety at aerodromes" charge to be dropped, expressing concern that it was excessive, and may even have been brought to discourage other activists from taking non-violent direct action in defence of human rights. Amnesty attended the trial proceedings daily.
In February 2019, three of the group were given suspended jail sentences, and the other 12 were handed community orders. In November last year the activists began an appeal to challenge their convictions made under terrorism laws. The Lord Chief Justice said they "should not have been prosecuted for the extremely serious offence … because their conduct did not satisfy the various elements of the offence. There was, in truth, no case to answer."
The judgment said the offence they were charged with was intended for "conduct of a different nature" after the campaigners' lawyers told the Court of Appeal the offence used was related to terrorism and had been created in the wake of the 1988 Lockerbie bombing.
Nearly 12,000 Amnesty supporters have sent the Stansted 15 messages of solidarity. The case of the Stansted 15 followed a pattern across Europe of volunteers acting for migrants and people seeking refuge being harassed, intimidated, and criminalised for their acts of solidarity.  Source 1 - Source 2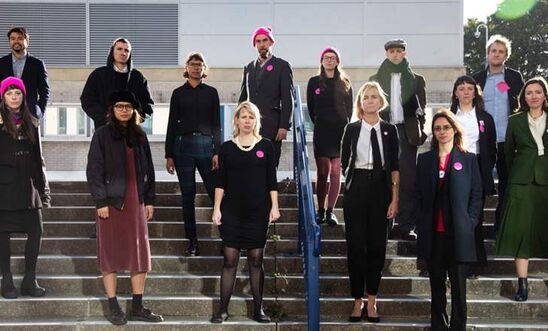 ____________________________________________________________
Australia
Amnesty International Australia today welcomed the further release of refugees from the Park Hotel, Alternative Place of Detention (APOD), in Melbourne, but said the release showed the policy was arbitrary and cruel. Amnesty redoubled its call for the release of a further 14 people who remain in detention and all those arbitrarily detained.
Among those released is Mostafa "Moz" Azimitabar, a courageous voice of the #GameOver campaign, who was Medevac'd to Australia at the end of 2019 for urgent medical care and has been in detention ever since. He said "This is the most beautiful moment of my life… after 2,737 days locked up in detention – I am free. Thank you to all of the amazing people who helped me to stay strong. If I am able to obtain my freedom, there should be the opportunity for the others seeking asylum to have their freedom as well. Until all of us are free, none of us are truly free."
Amnesty International Australia Refugee Rights Advisor, Dr Graham Thom, said: "The fact that some of these people have been released today and not seven years ago demonstrates the totally arbitrary and cruel nature of locking innocent people up. The timing is curious, to say the least. There are still around 150 refugees and people seeking asylum from Australia's offshore detention regime detained in APODs and detention centres around Australia, with around 264 still offshore. For them, we must keep up the fight. We're also concerned about what happens to these people when they're released – they receive no support, and in many cases have complex medical conditions for which they still need treatment.
Australia is ultimately responsible for these people, people who were fleeing from some of the most dangerous places on earth. During their detention at the hands of our government their physical and mental health has been seriously damaged. Australia is obliged to help them repair the damage done over the past seven years.
This is a win for everyone who has worked for the release of these people, all the people who've signed petitions, sent messages of support and protested on the street to draw attention to the plight of the innocent people locked up for no reason," Dr Thom said.
Amnesty International launched the Game Over campaign in 2019 following a visit to Papua New Guinea to visit Australia's refugees with human rights advocate Craig Foster. More than 70,000 Australians and hundreds of community organizations have taken direct action to ensure all those detained by Australia's cruel immigration policies are freed.
The latest releases come as the international community criticised Australia's offshore processing and mandatory detention regime as the United Nation conducted the third Universal Periodic Review (UPR) of Australia's human rights record. Among the countries calling for an end to offshore processing and mandatory detention were Germany, Ireland and Finland. A final report of recommendations for Australia to improve its commitment to human rights will be delivered by the UN on February 5.  Source.
____________________________________________________________
Saudi Arabia, whom for years is one of the world's most prolific executioners, dramatically reduced the number of people put to death last year, following changes halting executions for non-violent drug-related crimes, according to the government's tally and independent observers.
The Saudi government's Human Rights Commission said Monday it documented 27 executions in 2020. That's compared to an all-time high of 184 executions the year before as documented by Amnesty International and Human Rights Watch. The change represents an 85% reduction in the number of people put to death last year, compared to 2019.
The Saudi rights commission said. "The sharp decrease was brought about in part by a moratorium on death penalties for drug-related offenses,"
When asked by The Associated Press, the commission said the new law ordering a stop to such executions came into effect sometime last year. The new directive for judges does not appear to have been published publicly and it was not immediately clear whether the law was changed by royal decree, as is typically the case.
The AP previously reported that Saudi Arabia last year also ordered an end to the death penalty for crimes committed by minors and ordered judges to end the controversial practice of public flogging, replacing it with jail time, fines or community service.  Source.
____________________________________________________________
China
Tibetan activist Tashi Wangchuk has been released after five years in prison for "inciting separatism".  Tashi was targeted after campaigning for the Tibetan languge to be taught in Tibet's schools.  He wants Tibetan children to learn their native tongue in Chinese schools, as well as the Mandarin that they currently learn.
In January 2016, Tashi was taken into custody and then 'formally' arrested two months later.  His trial took place in January 2018, after enduring almost two years of pre-trial detention and with no access to his family.
The trial was a sham – according to his lawyer, the main evidence presented against Tashi was a short film produced by the New York Times in 2015, which documented his campaign for Tibetan language education in schools.  He was sentenced to 5 years in prison in May 2018.
China has a history of using heavy surveillance and intimidation against human rights defenders after they are released from prison. The Chinese authorities must immediately lift all restrictions on Tashi.  Source.
View latest posts