Good News Stories - August 2020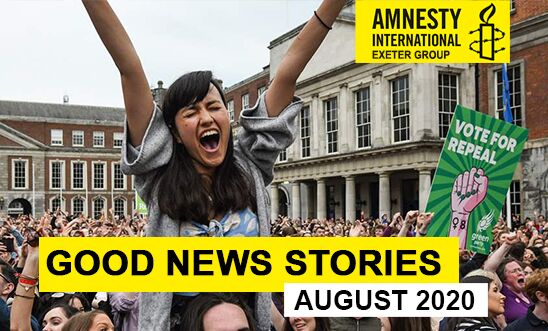 © Content via Amnesty International, BBC, The Independent, US News
Opposition-Run Teachers Union Leaders Released
Jordan released 13 leaders of a teachers union, nearly a month after detaining them in a move weakening the group that has become a leading source of dissent. The government on July 25th closed the offices of the 100,000 strong union and suspended its activity for two years, in one of the largest crackdown on a major dissident group in recent years.
The detention of the 13 teachers triggered demonstrations across the country calling for their release, the government's resignation, and an end to corruption. The authorities arrested over 350 teachers during the protests, some of whom are still detained. Civic groups and independent politicians say the government has been using emergency laws enacted in March at the start of the coronavirus lockdown to limit civil and political rights.
Prosecutors put a gag order on media coverage of the judicial investigation had charged the leader of the union Nasser Nawasrah with incitement and 12 other members of the union's council with financial wrongdoing. The union says the charges are baseless. Judicial sources said their release marked the end of a month long administrative detention, and they were free pending a court decision on whether there is a case to answer. Some government officials accused the union leaders of harbouring the Islamist opposition's political agenda. The union says this accusation is part of a government smear campaign.
Human Rights Watch had criticized the crackdown and urged the authorities to end intimidation tactics that bar people from exercising their right to freedom of association. Adam Coogle, Human Rights Watch deputy director for the Middle East and North Africa division responded: "The release of the teachers union leaders is a positive step but Jordanian authorities must urgently review the dubious closure of the syndicate and ongoing prosecutions."
Political opposition is often marginalized in Jordan, but protests have grown in recent years over eroding living standards, corruption and the slow pace of political reforms. Union leaders said they would press on with their campaign to end the freeze on their activities and to force the authorities to honour an unfulfilled deal over pay rises. The union went on strike last year, shutting down schools across Jordan for a month, in one of the longest and most disruptive public sector strikes in the country's history.  Read more here.
____________________________________________________________
Denmark: Amend rape law puts historic victory within reach
A cross-party agreement by Denmark's government and coalition parties are to introduce consent-based rape legislation is a step towards a historic victory for human rights, said Amnesty International. After many years of campaigning by women's rights and survivors' groups, the government agreed to amend the Criminal Code to finally recognize in law that sex without consent is rape.
Responding to the news Amnesty International's Women's Rights Researcher, Anna Błuś said: "This is a historic victory, not just for the campaigners who have fought long and hard for this day, but for everyone in Denmark. A human rights-compliant consent law would position Denmark as an example for other countries in Europe that care about access to justice for rape survivors and true gender equality. The new legislation must recognize the simple truth that sex without consent is rape and make absolutely clear that physical violence is not required for the crime to be considered rape. Even in long-term relationships and marriages, consent can never be assumed."
This recognition is of vital importance. Changing outdated and dangerous rape laws is a major step towards ending pervasive stigma and endemic impunity for this crime. Law reform can also be a crucial starting point for changing behaviours and attitudes, but to do so it must be accompanied by concerted efforts to challenge widespread harmful myths and gender stereotypes.
Anna Błuś responded "Legislation reform has the potential to also influence mindset, so this commitment by the Danish government is a welcome step forward. We now look forward to seeing the text of the law, and hearing how the authorities intend to challenge rape myths and negative gender stereotypes at all levels of society. This will require institutional and social change, as well as comprehensive sexuality and relationships education, including on sexual consent. We are confident that, led by survivors, Denmark can forge a new path which other countries in Europe will follow."
Amnesty International previously analysed rape legislation in 31 countries in Europe and found that only eight of them have consent-based legislation in place. Those countries are the UK, Sweden, Ireland, Luxembourg, Belgium, Cyprus, Iceland and Germany. For the crime to be considered rape in the other European countries, the law requires for example the use of force or threats, despite the fact this is not what happens in a great majority of rape cases. Greece and Spain have recently announced that they will amend legislation to recognize this fact.  Read more here and here.
____________________________________________________________
Same-sex marriage: Religious ceremonies to start in NI
The first same-sex religious marriages can be arranged in Northern Ireland, since last Tuesday. It follows legislation introduced by the Northern Ireland Office in July. There are, however, exemptions and protections for religious bodies that do not wish to conduct same-sex marriages. Same-sex marriage has been legally recognised in NI since January but did not extend to ceremonies in churches or to religious bodies. However a consultation on extending that provision to religious same-sex marriages was opened by the Northern Ireland Office (NIO) and the new regulations are based on its results. The UK government said religious bodies cannot be "compelled by any means" to carry out services. Couples can give their 28 days' notice of intent to have a religious service from Tuesday 1 September, which means the first ceremonies could take place on 29 September. The legislation contains equality law protections so that religious bodies and officiants cannot be held to be unlawfully discriminating against same-sex couples if they refuse to marry them.
Same-sex marriage campaigners have welcomed the move, but are now urging the government to make marriage fully equal by allowing same-sex couples with an existing civil partnership to be able to convert their partnership into a marriage.
Patrick Corrigan, Amnesty International's Northern Ireland director, said it was up to the government to "finish the job. This is an important issue for many couples in Northern Ireland, who have previously been prevented by law from marrying in their own church. We now urge the government to finish the job of marriage equality in Northern Ireland without further delay, by allowing couples in civil partnerships to convert to married status if they so wish."
Mr Corrigan welcomed the fact the new law will protect religious freedom and that churches will not be "compelled nor prevented" from offering same-sex ceremonies.  Read more here.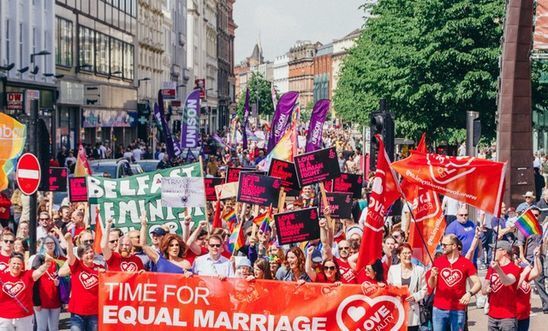 More good news stories will be published next month.
View latest posts