'Voices' stories and memories from around the world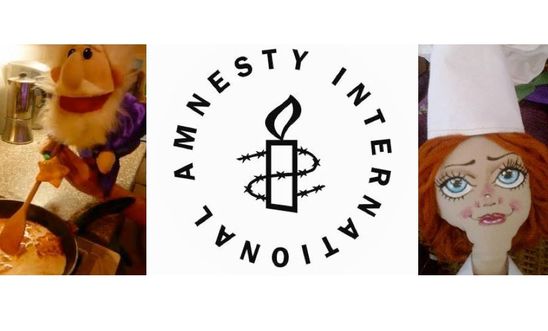 In aid of Amnesty International, The Word Garden will present an awareness raising performance of stories and memories from around the world
Saturday, 11 March at 7.00pm at The Babylon Gallery.
A local Ely group of storytellers, puppet handlers, makers and writers, all giving their time freely, are working together to create a collaborative theatre production. We have stories with an international flavour from India, Brazil, the Netherlands, Trinidad, Zimbabwe, Russia, Ghana and England.
As we share their memories of food for special occasions, of early breakfast, or a special dinner or afternoon tea, storytellers are re-remembering childhood events and global traditions. Puppet handlers are re-creating inspirational stories of a travelling cat, of tweets from Aleppo, Graffiti, and the jumbie bird. We have song from Russia, ukulele and guitar music, old and authentic cooking pots, plates and sugar tongs.
We open with an Introduction to the work of Amnesty International, followed by an adaptation of a keynote article by Paul Joseph who writes on the question of food and passive resistance during the political struggles for freedom in South Africa.
Everyone loves good food, a good story handed down from family to family. In 'Voices' storytellers, music-makers and puppets show us that happiness may be found where struggle for survival exists at the edge. In this production we aim to build new cultural connections, new hopes for harmony, new choices of those ingredients that make life happy: awareness and acceptance.
https://www.facebook.com/Word-Garden-Amnesty-542741715930722/
Limited seating, so booking is essential. Tickets are £5.50 (including fee) at:
http://www.wegottickets.com/event/389871
Downloads
View latest posts