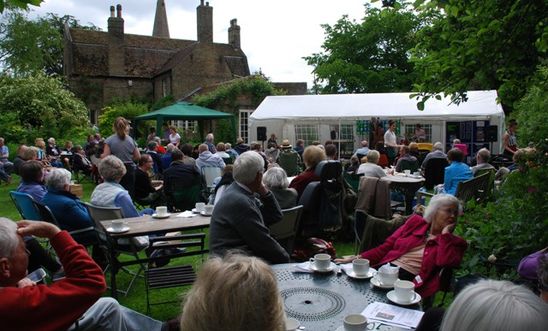 Our Jazz Afternoon on Sunday 9th June was a huge success!
Immaculate planning, incredible support from the Old Fire Engine House restaurant, and many willing hands made for a truly professional and enjoyable event. Although a little cool, we did have some sunshine and, best of all, the afternoon remained dry.
About 160 paying members of the public turned up to relax in the restaurant's beautiful gardens, enjoy delicious cream teas, and to listen to some wonderful music.
Taking the lead was James Pearson, resident pianist and Artistic Director at Ronnie Scott's famous Soho Jazz Club. He was described by the late jazz legend Sir John Dankworth as "an exceptionally gifted artist. His masterful playing makes him head and shoulders above the rest of his contemporaries. He shows signs of true greatness".
As you would expect, Sir John Dankworth was not wrong, and James wowed the audience with his virtuosity, even on a piano that bounced a bit too much for comfort. Joining James was his very talented younger brother, Joe, on drums, Sam Burgess - another member of the All Stars - playing double bass, and the fantastic R&B singer Polly Gibbons. The songs included: Almost like falling in Love, But not for me, You don't know where love is, Midnight prayer, Georgia on my mind, Hallelujah I just love him so, Honeysuckle Rose, Stormy Weather, Don't let me be lonely tonight, Bye, Bye, Blackbird and, very appropriate for an Amnesty event, Oh I wish that I knew what it feels to be free!
For those unable to attend, you can hear James in action on: http://www.jamespearsonmusic.com/listen/ and Polly on:http://vimeo.com/27579992.
We did exceptionally well on the raffle, as we had four superb prizes generously donated by Ronnie Scott's, The Old Fire Engine House restaurant, Peacock's Tea Room, and Toppings & Co.
This amazing event has raised £1,150 for Amnesty, and we will be very hard pushed to beat it.
View latest posts