LAST CHANCE to join us our Write for Rights campaign - Saturday 1st December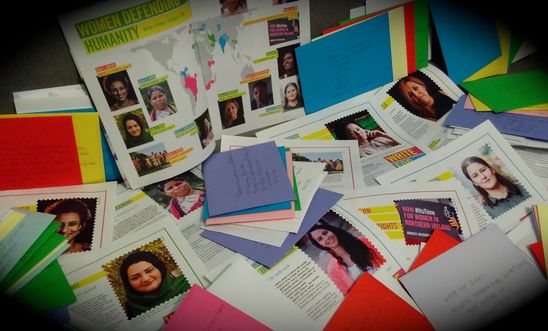 We signed 91 cards this weekend, with messages of solidarity to women defending humanity around the world
How wonderful to see so many faces - both old and new - at Ealing Amnesty's first card-signing session for Write for Rights 2018!
We signed 91 cards with messages of solidarity to women defending humanity in Brazil, India, Iran, Kenya, Kyrgyzstan, Venezuela, South Africa, Ukraine, Morocco and the UK.
To find out more about Write for Rights and the individuals featured in this years' campaign, visit: https://www.amnesty.org.uk/write-for-rights
It's not too late to Write for Rights
If you missed out, don't worry - we'd love to see you at our final card-signing session this year. You don't need to bring anything with you, although you may find if helpful to have a pen and enough change to get yourself a cup of coffee. You can drop in at any time.
Date: Saturday 1st December 2018
Time: 2pm to 4pm
Find us: The Orchard Cafe, Singapore Road, West Ealing, W13 0EP
This week, we're be busy making a new batch of cards for you to sign. However, if you have any small notecards (10cm x 10cm or smaller), it would be greatly appreciated if you could bring them with you.
HMD 2019 Postcard Project 
Don't forget, in preparation for Holocaust Memorial Day (HMD) 2019, we will also learn about the experiences of survivors of the Holocaust and the Genocide in Cambodia. You will then have the opportunity to write a postcard to one of the survivors.
To find out more about Holocaust Memorial Day, visit: https://www.hmd.org.uk/
View latest posts