Football Welcomes Tournament For Girls a Big Success!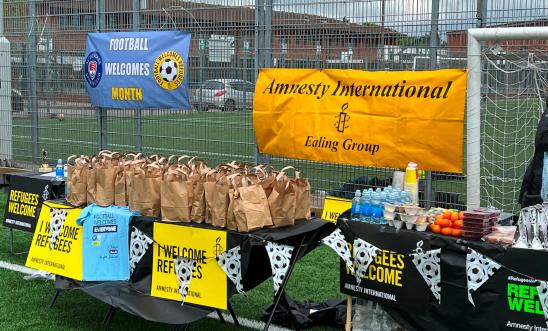 Girls from muslim refugee and asylum seeker backgrounds were the "majority not the minority" on the football pitch on Saturday May 7th as over forty 8-12 year-olds participated in a first of its kind football festival in Feltham. The tournament was part of Amnesty International's 'Football Welcomes Refugees' campaign.
The event was hosted by Actonians LFC, based in Acton, in partnership with Abresham FC which aims to give young Muslim girls an opportunity to play sport which some might not feel is available to them elsewhere.
The players mixed to form six five-a-side teams, with the main aim of the tournament being inclusion and making new friends; and of welcoming young girls from muslim Afghan backgrounds into football in London. Both clubs provided coaches to referee and manage the teams as they battled it out to win an array of medals, trophies and prizes followed by lunch and treats. Actonians LFC also donated over fifty children's books to contribute to helping young girls access education.
Afghanistan has suffered decades of devastation and conflict. Kabul fell to the Taliban last summer and since then the country has been savaged by extreme poverty and human rights abuses. In times of war, occupation and dictatorship it is women and girls that suffer the most.
Speaking at the tournament, Abresham FC manager and coach, Hannah Finlayson, who also coordinated the football logistics on the day said, "many of these girls have gone through difficult times, today is about giving them a fun time in a safe and inclusive space where everyone is welcome. Today Afghan girls are not a minority."
Abresham FC girls were joined by Actonians LFC, whose under 12's manager, Vicky Ward commented, "what a way to bring everyone together, the kids loved it. Not only was there plenty of young talent but they all made new friends. Today proved just how uniting football can be."
'Each player was given a T-shirt with the message, 'Football Welcomes Everyone' in both English and Dari, the language of Afghanistan, written on the front, provided by StootzPrinting.'
Players demanded rematches and played right up until the last minute before lunch, drinks and snacks, which was provided for free by London's Community Kitchen, based in Harrow. The kitchen runs off a 'zero waste, zero hunger' policy intercepting fresh surplus food destined for landfill recycling it back into the community.
Many women will have experienced difficulties accessing sport, which is even harder for young muslim women who may face more unique challenges particularly at a time when much of the world is being displaced and diaspora communities continue to grow.
One girl, aged 9, from Abresham LFC, said " I wasn't allowed to play football in Afghanistan, but now I can. Football makes me happy."
Whilst another who was awarded player of her team explained; "I played so well and scored so many goals even though I'm still learning how to play football." Finishing her last match she asked; "When will we do this tournament again?"
The 'Football Welcomes Refugees' event is all part of Amnesty International's Football Welcomes campaign to celebrate the contribution of asylum seekers and refugees to the UK, into communities, and on to football pitches. A goal that was certainly achieved on the day.
*
Originally posted here.
View latest posts