Football Welcomes Refugees: 11 April 2023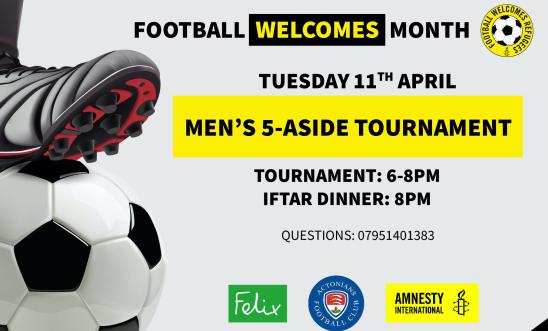 Ealing Amnesty International, Actonians LFC and The Felix Project are supporting Amnesty International's annual Football Welcomes Refugees campaign - to celebrate the contribution players with a refugee background make to the beautiful game, and the positive role football can play in bringing people together and creating more welcoming communities. Full details here. https://www.amnesty.org.uk/football-welcomes-refugees
We'll be hosting a men's 5 a-side tournament from 6pm on 11th April 2023 with refugee players invited. As this is during Ramadan, we'll also follow the matches with an Iftar meal.
Check out the 2022 highlights here: https://www.youtube.com/watch?v=akdSdhKTZsQ
We'll also be hosting a Children's Football Festival on May 13th.
To make the events open to as many refugee players as possible, we're fundraising to cover the cost of kit, food and gifts for the children (including educational materials).
Please show your support by coming along to cheer, or donating any amount, no matter how small. Contact amnesty.ealing@gmail.com or call 07951 401383 for more info.
https://www.gofundme.com/f/ealing-and-acton-football-welcomes-refugees-2023
Thanks for your ongoing support,
Ealing Amnesty
View latest posts