Ealing Amnesty Write for Rights on Sunday 26th November 2017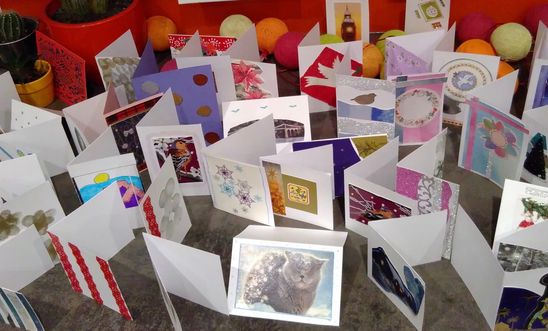 Handmade cards crafted by the Ealing Amnesty Group in preparation for Write for Rights 2017
Join us from 2:30pm on Sunday 26th November at Piccola Italia in Ealing Broadway for coffee and card-writing.
After a weekend of cake and crafts, where we created over 80 handmade cards (pictured), the Ealing Amnesty Group are ready for the Write for Rights campaign 2017. 
You are invited to help us fill these cards with messages of solidarity and hope to people across the globe whose basic human rights are being attacked.
You don't need to bring anything with you – we have pens, cards, envelopes and stamps.  However, if you have any small notecards (10cm x 10cm or smaller), please feel free to bring them along.
*
Date: Sunday 26th November
Time: 2:30pm to 4:30pm
Find us: Piccola Italia, 21 The Green, Ealing Broadway, W5 5DA
Feel free to drop in at any time.
If you can't make it, don't worry -  we have another card-writing session on Saturday 9th December.  Same time. Same place.  You're welcome to come to either one, or both!
*
To find out more about Write for Rights and the individuals featured in this years' campaign, visit: https://www.amnesty.org/en/get-involved/write-for-rights/
View latest posts