Ealing Amnesty campaign for Refugee Rights at Ealing Jazz Festival on Saturday 28th and Sunday 29th July 2018 - visit our stand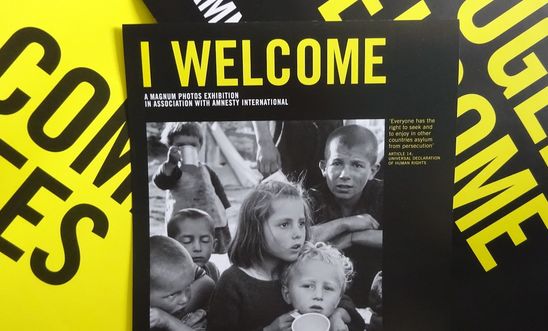 Ealing Amnesty group are delighted to return to the Ealing Jazz Festival on Saturday 28th and Sunday 29th July 2018, 1pm to 5pm on both days.
What are we campaigning for?
This year, we are displaying the evocative I Welcome exhibition, a collection of images spanning 70 years, which allow us to glimpse into the individual stories of mass displacement.
We will also collect signatures for a petition to encourage the new Home Secretary, Sajid Javid, to listen to the 131 MPs from across the political spectrum who voted overwhelmingly to pass the Refugee Family Reunion Bill.
Why Refugee Rights?
The current UK laws on the rights of refugees are restrictive and unfair. They mean mothers, fathers, brothers and sisters who have lost everything in the wake of war and persecution, also lose their family. They don't just miss out on the big family occasions like birthdays. They miss out on the everyday stuff too; the mundane but wonderful bits of family life.
The Refugee Family Reunion Bill would change all of that:
Child refugees would have the right to sponsor their close family to come to the UK so they can rebuild their lives together.
Young people who have turned 18 and elderly parents would also be able to live in safety with their families here.
Refugees who have lost everything could access legal aid to help them navigate the complicated process of being reunited with their families.
Visit our stand at Ealing Jazz Festival
Date: Saturday 28th and Sunday 29th July 2018
Time: from 1pm to 5pm on both days
Find us: Ealing Jazz Festival, Walpole Park, Ealing W5
We look forward to seeing you there!
View latest posts