Amnesty International's Write for Rights and Holocaust Memorial Day 2019 Postcard Project - Sunday 25 November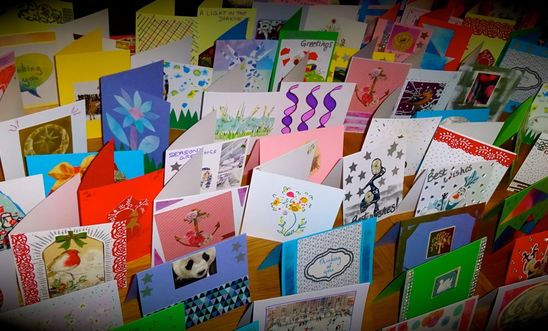 Nearly 100 home-made cards, especially created for Ealing Amnesty Group's Write for Rights 2018 campaign
This year, Ealing Amnesty Group are delighted to combine their annual Write for Rights campaign with the Holocaust Memorial Day (HMD) 2019 Postcard Project.
We would like to invite you to join us for coffee and to fill home-made cards with messages of solidarity and hope to human rights defenders across the globe.
In preparation for HMD 2019, which also marks the 40th anniversary of the end of Genocide in Cambodia, we will learn about the experiences of survivors of the Holocaust and genocide. You then have the opportunity to write a postcard to one of the survivors.
Join us at our first card-signing session
Date: Sunday 25th November 2018
Time: 4pm to 6pm
Find us: Piccola Italia, 21 The Green, Ealing, W5 5DA
If you can't make it, don't worry -  we're meeting again at 2pm on Saturday 1st  December, at The Orchard Café, Singapore Road, West Ealing, W13 0EP
You are welcome to drop into either session at any time. You don't need to bring anything, except perhaps a bit of change for a coffee or a cup of tea! We have pens, cards, envelopes and stamps.  However, if you have any small notecards (10cm x 10cm or smaller), please feel free to bring them along.
Contact us:
Contact us on Amnesty.Ealing@gmail.com for more information, or just drop in!
View latest posts