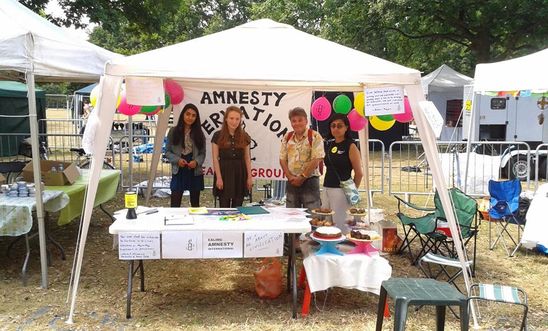 Next meeting: Monday 9th November 2020, 7:30pm.
*
Ealing Amnesty in a nutshell
Ealing Amnesty group meets on the second Monday of the month (except August and December). Meetings have resumed at Northfields Community Centre, 71a Northcroft Road, Ealing W13 9SS. Look for the blue door on the right and ring the bell for Room 3. 
Subscription is £2 per meeting to cover the cost of the meeting room and letter-writing materials.
At every meeting, we take part in the core of Amnesty International's work by writing letters to governments, embassies and those in a position of influence and authority, in order to protect people from torture, to help free those who are wrongly - and sometimes secretly - detained, and to secure access to medical treatment or legal counsel for prisoners.  We also plan future campaigning and fundraising events, where we reach out to the local community to support our work.
Ealing Amnesty is a small, friendly group with a strong interest in human rights.  Originally founded in 1972, we welcome both regular attendees and casual drop-ins.
Ealing Amnesty is proud to be part of the global movement that makes a difference.  2018 saw the release of Ethiopian journalist and blogger, Eskinder Nega, who had served seven years of an eighteen year prison sentence.  Eskinder was a prisoner of conscience, arrested in 2011 after he criticised his government and called for free speech in journalism. For nearly three years, Ealing Amnesty organised vigils outside the Ethiopian Embassy in London, wrote letters of protest to the authorities and send cards of solidarity to Eskinder and to his wife.  We are delighted to learn that he is now free.
Contact us for more information or just drop in at our next meeting.  All are welcome!
Keep in touch
Want to keep in touch? Send us your email address to be added to our mailing list: Amnesty.Ealing@gmail.com