BRAZIL WORLD CUP 2014. Human Rights: One Goal - No Violence.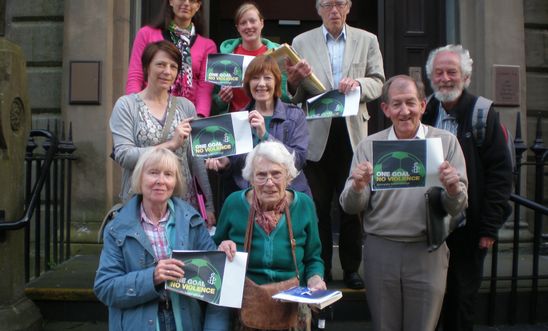 Brazil World Cup 2014. Human Rights: One Goal - No violence
Dundee Group followed up the Amnesty Monthly Action on Brazil where police crackdowns had been occurring in the favelhas of Rio de Janeiro and Sao Paulo following widespread public demonstrations about the inadequacy of public services such as health provision, public transport and housing. These had been taking place against a background of lavish government spending in preparation for the 2014 World Cup. Police  violence against demonstrators has been a feature of these events. Our action was to send a group photo to our colleagues in Brazil as a demonstration of our solidarity with their work on human rights in these circumstances.
          We also sent a letter signed by members of the group concerning the shooting of two unarmed men in related incidents involved with the demonstrations.There appeared to be evidence that these killings had been carried out by military police. We called on the Governor of Rio de Janeiro to ensure that prompt, thorough and impartial investigations were carried out on these incidents.
View latest posts