Love is all around in Croydon!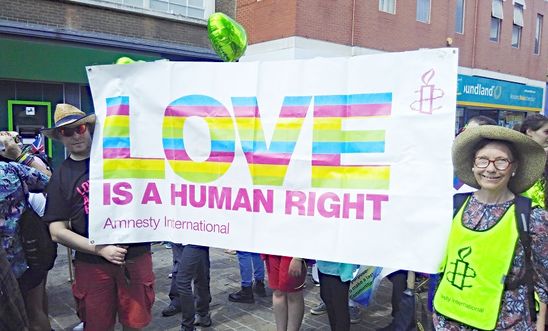 It's Pride Month once again so of course our Croydon group took to the streets in solidarity with the LGBTQI community and to declare that love is a human right!
Taking part in the Pride Parade at Wandle Park, we used the opportunity to raise awareness of our upcoming sponsored swim, the Chilean human rights defender Rodrigo Mundaca and more specifically to campaign for Sakris Kupila from Finland who is currently fighting for the rights of the transgender community in Finland.
Transgender rights in Finland
Sakris is seeking to change the current repressive laws in Finland which require him to be diagnosed with a mental disorder and sterilised to in order to  be recognised as his chosen gender.
Naturally, people passing by our stall were horrified by the details of his case and were very happy to sign cards calling upon the Finnish government to change these laws. Over 100 people signed cards declaring their support for Sakris and calling out the Finnish government. A great success!
Taking pride in progress
Stickers and balloons galore, it was a fun, engaging and productive day. A big thank you to everyone that attended Croydon Pride and who came to visit our stall. Every signed card is a step closer to justice and every Pride is a celebration of just how far we've come in championing greater equality and representation for the LGBTQI community both here in the UK and worldwide.
Of course, there is still a lot more that needs to be done. So why not join us next year at Pride? In the meantime, take action for Sakris – take action here and show your support.
Happy Pride everyone! ♥
If you're interested in getting involved with Amnesty in Croydon, please email Beverley at beverley.foulkes-jones@amnesty.org.uk.
View latest posts