Supporting refugees in Chester and Wrexham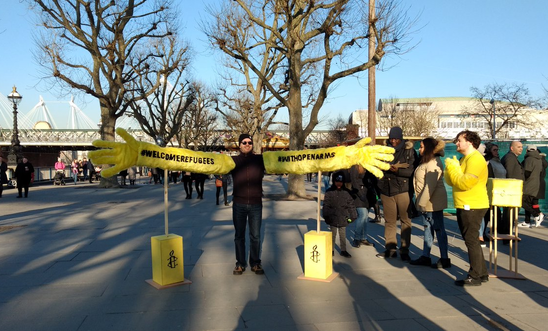 The Chester and Wrexham Amnesty group will out and about in Wrexham next month to show their support for refugees entering the UK.  
We will be in Chester on Saturday 2nd July at Chester Town Hall Square (between 12 and 2pm) and in Wrexham on Monday 3rd July outside the old BHS store (11.30am - 2pm).  
We will have with us 'THE BIG YELLOW ARMS' as pictured above.  We are hoping that people will take a moment to embrace the arms and show their support for the 'I Welcome' refugees campaign.  We will be taking photos of people posing with the structure and then sharing the images on social media. We are hoping to send a welcome message to refugees who have had to flee their country due to persecution and war.
Please pop along to show your support.  We are hoping to post as many pictures as possible so if you have 5 mins to spare why not drop by!
Many Thanks.
Amnesty Chester/Wrexham 
View latest posts