Cancellation - Fundraising Concert and Social with Wrexham Community Choir Thursday 6th June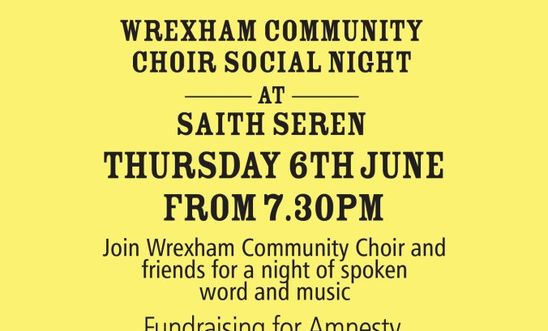 Update - we regret that this event has been cancelled and will hopefully be rearranged for the Autumn. Apologies for the inconvenience. We have another event on 30th June in Chester, more details to follow soon.
We are very pleased to confirm that we are collaborating with Wrexham Community Choir at their monthly fundraising concert on Thursday 6th June at 7.30pm. The attached flyer has all the details. 
Wrexham Community Choir hold a social night at 
Saith Seren pub
 on the first Thursday of every month where they raise money for local charities/ causes supported by choir members. This month, thanks to Hai Ying's organisation, we are the charity.
Click below to download the flyer, and follow the link for the pub's website which includes a map link.
1. 
Come along on the night 
- we need people to rattle buckets, sell badges, and be prepared to chat about Amnesty
2. Tell - and bring! - your friends. Use the flyers attached to advertise the event, and you can also invite people via the facebook event (click 
here
)
3. Donate a raffle prize - if you're prepared to help with this, please get in touch
4. If you'd like the opportunity to perform - or know someone who would - they'd love to hear from you!  Whether you're a poet, band, group, story teller or individual musician - whether you play classical, punk, folk, brass, reggae, R&B, a cappella, indie, gospel, instrumental or rap etc. Whether you have had experience of performing or this would be your first performance - Do get in touch.
Downloads
View latest posts