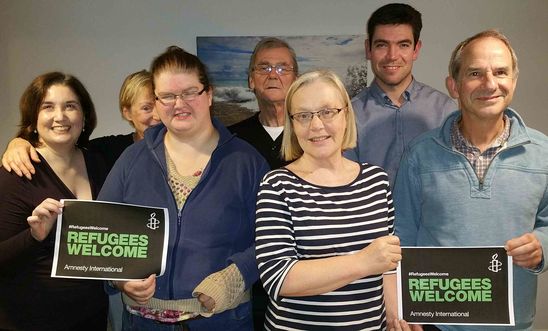 September Group meeting showing support for refugees © AI Chelmsford
Our September meeting, at Liz and Steve's in South Woodham Ferrers, was, as expected, pretty busy.
We debated Amnesty's My Body, My Rights campaign to decriminalise abortion in Ireland, the consultation on AIUK's Constitution, signed letters to Russia on Ukrainian activists given long prison sentences after unfair trial in military court, and the US on Shaker Aamer's continuing detention. We were disappointed by MPs Simon Burns' and John Whittingdale's responses to our letters on the Human Rights Act, and on Simon Burn's reply about the UK's response to the refugee crisis.
We demonstrated our support for refugees, and wrote a letter about it to the Essex Chronicle that appeared on 1 October.
Downloads
View latest posts